Dani Jensen has got a body you'd totally bang for the rest of your life.  I mean, wow!  Her waist, her hips, her rack…  Just wow!  And she also possesses an intimidating face that you'd want to facialized after a good nailing.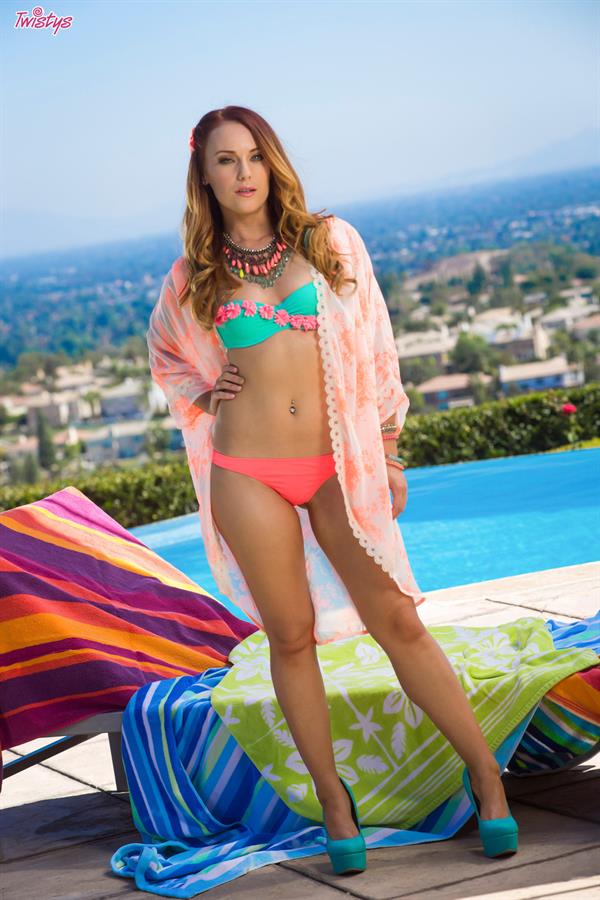 Oh, we guarantee that you'd be having quite a hardon after this.  If you are single and in a safe place, then go ahead and watch a few of her scenes.  Now, if you are married or in a relationship, tell your partner to watch her scenes with you and do what she's doing in her scenes.
Who is Dani Jensen?
This 5'1″, 34A-24-30 babe is an American nude model and adult actress.  She was born Carina Thomas on December 26, 1987, in Ontario, California and she has Norwegian and Irish heritage.  Dani worked as a server at a McDonald's in San Dimas, California, then as a hostess at a nearby Applebee's before landing a job as a waitress at the elite Spearmint Rhino gentlemen's club.  Before long, Dani had progressed from being a bartender to performing as a feature dancer which eventually paved the way for her to pursue a thriving porn star career.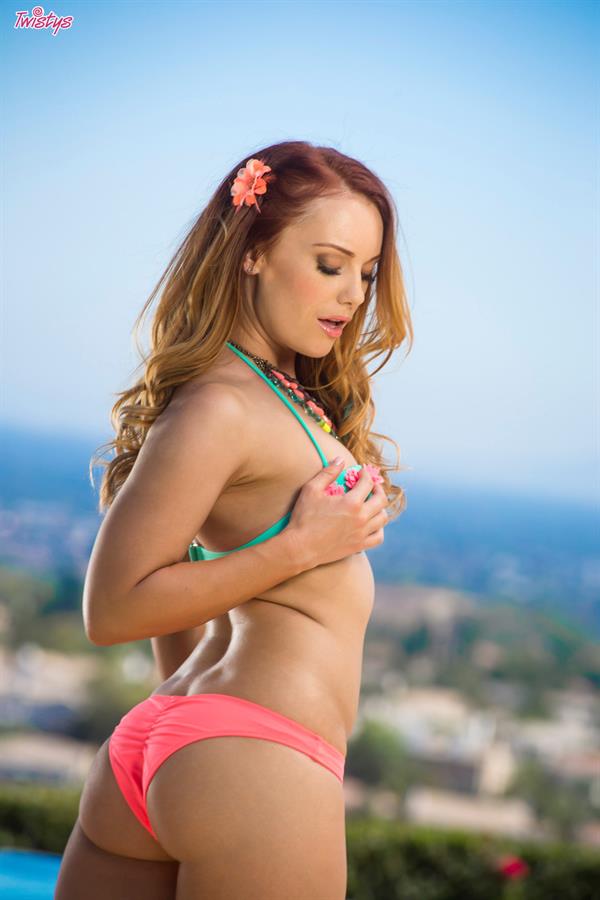 "I grew up in Southern California, born and raised.  I've always been spoiled with this phenomenal California weather.  I went to school and have been here my entire life.  I got into the business when I first started waitressing at a strip club at Déjà Vu.  I upgraded to a dancer and then a few years later, they asked me if I wanted to have my photos sent out that I took for Showgirls.  They asked if I wanted to do solo work.  And solo work turned into girl/girl which turned into boy/girl and the rest is pretty much history."
Career Journey
21-year-old Dani Jensen began working in the adult film industry in 2008 whereupon she signed with Derek Hay the exclusive adult film talent agency LA Direct Models.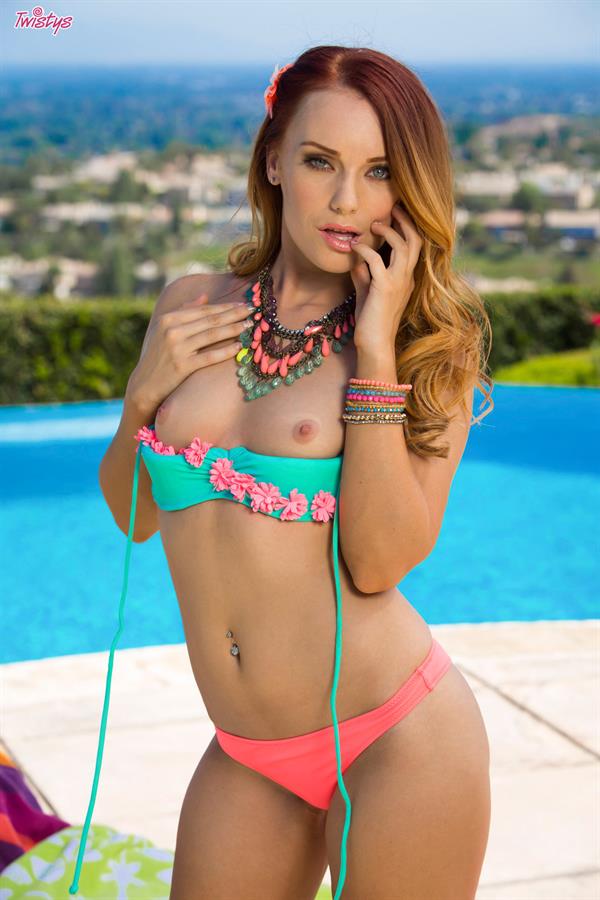 As for how she came up with her stage name…
"'Dani' was my dancer name and the individual who got me into the business, his business partner suggested the last name 'Jensen' because we thought girl-like."
Hot Curiosities
Dani likes tattoos and she got three flower buds and vines design across her right ankle.
"It's a vine that connects 3 flower buds.  The 3 flowers represent the 3 people I love most in this world."
She likes guys who are gentlemen…
"So very polite but also a man's man so he has to have muscles.  He has to be attractive but his outer attraction would only be fueled by the inner attraction of his personality.  Someone who can be my best friend and then sex is a bonus."
As for girls, she said it's the same thing.  Someone who can be a best friend and all.
If she didn't pursue a porn career, she would be a nurse.
When she's not busy with her career, she spends a lot of time with her dog.
"…because he is the apple of my eye and I would just die without him.  I have a pit bull and he is my best friend and my bodyguard so I feel complete and utter protection when he's around.  I've had him for nearly 10 years now.  He's a good guy.  I take him on walks and hikes and make sure he's taken care of.  I also love going on adventures like going to the movies or the drive-in movies or just thrown on sweat pants, hair in a bun, order some pizza and Netflix and chill.  You have to mix those in along with fancy date nights."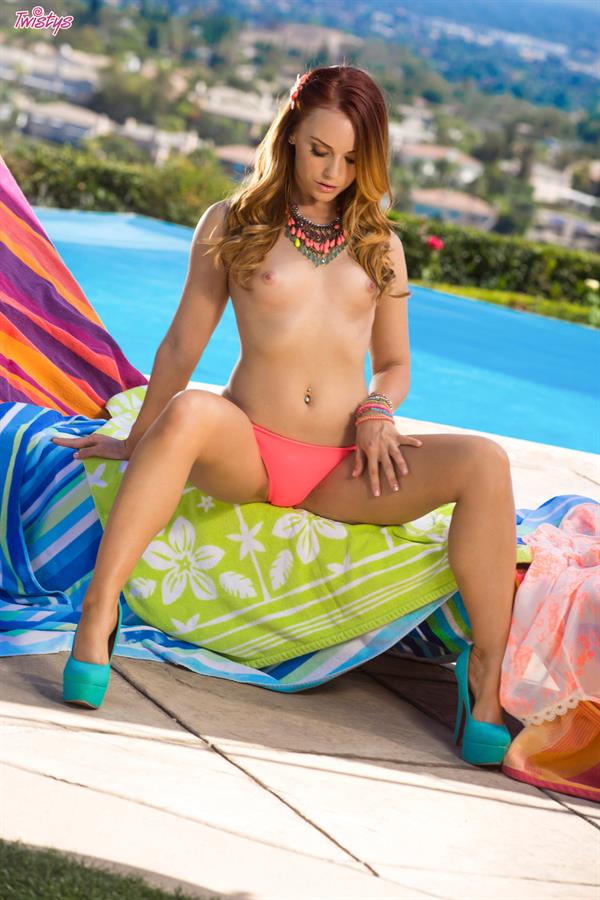 Dami likes eclectic mix. She loves country music and classic rock as well.
Her all-time favorite movie is The Goonies.  She also loves Disney movies and is obsessed like so many other girls.  Dani also loves horror movies.
"I'm a horror movie buff even the super cheesy ones like the original Leprechaun with Jennifer Aniston.  And I also love comedies. I love to smoke a joint and then laugh my butt off. Also, smoking to A Beautiful View is also a guilty pleasure."
Her favorite TV show is Bridgerton and her favorite food is shredded chicken enchiladas and pepperoni pizza.
Sex Talk
Dani lost her virginity when she was 14…
"I was camping with my mom and my boyfriend.  My mom left to go see a friend.  We got busy in the tent in the sleeping bag."
She didn't become promiscuous after that experience as she was with her boyfriend for about a year.
As for her favorite position…
"I don't even know if there's a name for it.  It's when the guy is above but he's not laying over me, he's straight up and on his knees and I have one leg in between his legs and one up on his shoulder.  It's a variation of mish with my leg up.  I like it because it opens up my pussy and I can bring out my toy and then I have a nice angle for him to get in nice and deep with the penetration and the vibration on my clitoris.  I'm done!  That and doggie are my favorites!"
Dani here loves for a guy to massage her and that turns her on the most.  She also enjoys a nice butt massage.
"And I also really like the little feather ticklers caressing my skin as a tease.  And a straight-up old-school make-out session.  You have to leave them wanting more, you can't just give it to them right away.  So I like that build-up also.  A good old-school car or couch make-out session."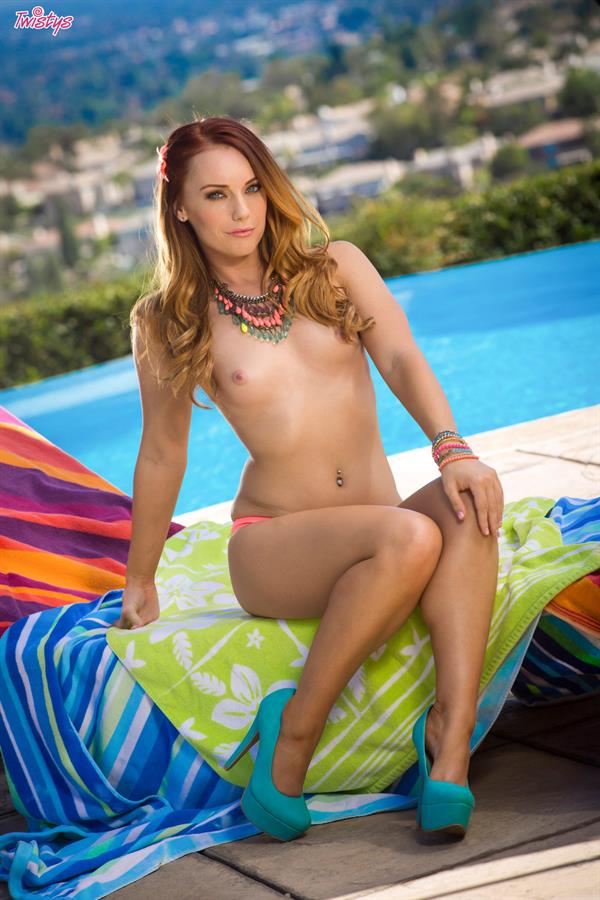 Dani masturbates when she's trying to get some sleep which is not very much…  She uses both her hands and a vibrator.
She likes cum on her butt or on her little bush. She doesn't really like facials as she doesn't like it into her eyes. If her partner is long-term, she let's him cum in her pussy for days.
As for the kinkiest Dani has ever done…
"Probably that 12-guy gangbang because that was a lot of cum to swallow."
Dani Jensen Gallery
Do follow her on Instagram for her latest super hot posts.
Also, don't forget to check out our Dani Jensen page for more of her.