The porn industry is a very dynamic industry. You see a lot of changes every day. Thousands of videos are uploaded to porn sites every day and there are videos being churned out as we speak.
It doesn't come as a surprise that this industry has seen a lot of girls come and go. Some girls you only get to see once. Some come back after a long time in absentia. And then there are those girls that you'd think you'd only be able to see once and never get to see again but they end up surprising you.
One of those girls happens to be Jayme Langford.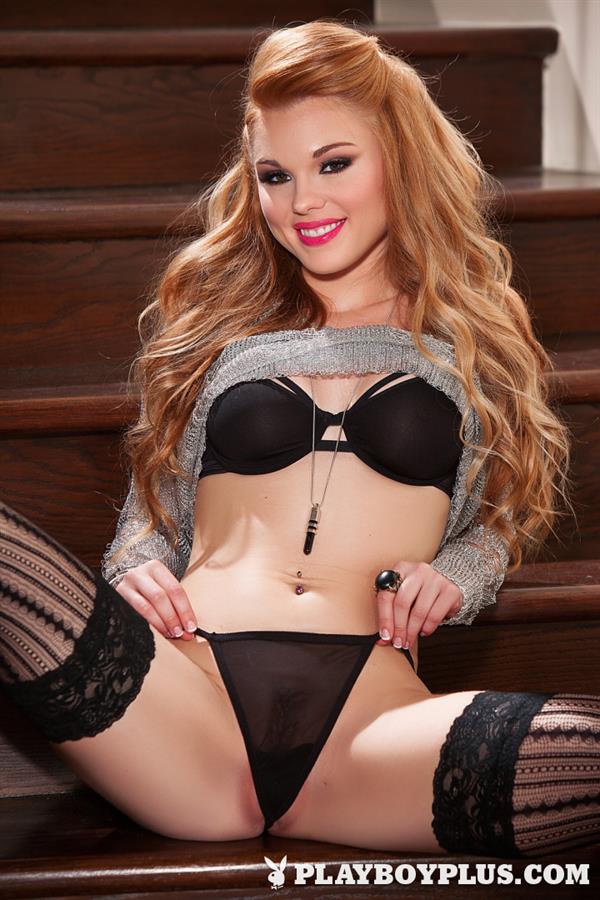 The first time I saw Jayme Langford, I didn't expect to ever see her again so I saved that video in my hard drive a long time ago. Sadly, I lost that hard drive and with that, my copy of one of her very first videos.
That was a Bang Bus production video and oftentimes you never get to see those girls again.
Back then Jayme Langford went by another name. She was Alison in that video. In her early films she had lots of aliases but in the end she stuck with Jayme which has since become what she is known for.
For those who don't know, Jayme also starred in boy-girl scenes when she was starting out. She only chose to stick to girl-girl scenes when she amassed enough clout to call the shots.
So why should we talk about Jayme Langford now when there are other more famous porn stars out there? Well, she may not be as popular as she used to be during her short stint as one but there's something that sets her apart from all other girls in the industry.
You have got to see her pussy to believe it. No doubt about it, Jayme has a great body with all the curves in all the right places but even the most hardened porn aficionado would agree with me if I say she's got the best pussy in the industry when it pertains to looks!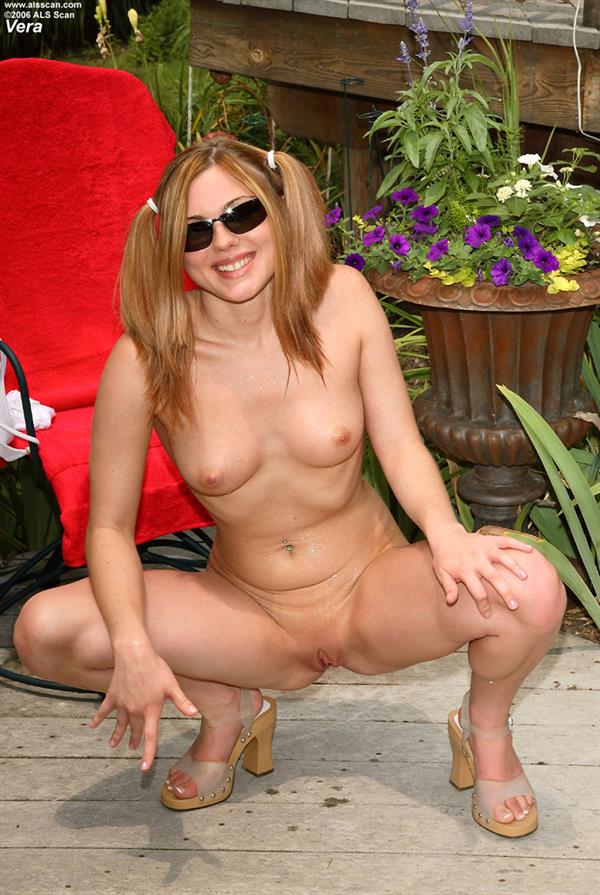 I have never seen a pussy as smooth and delectable as hers. It's just… perfect. Just a tiny slit between two plump lips and a butt to complement the package. It's no wonder the boys at Bang Bus went crazy over her. Heck, even Ed Powers sought her out just to get a little taste of Jayme.
Up top, Jayme is gifted with a set of perky tits that are just right for cupping. And stroking. And licking. And sucking on. It's just what Goldilocks said when she saw the Little Bear's bed. Not too small, Not too big, Just right!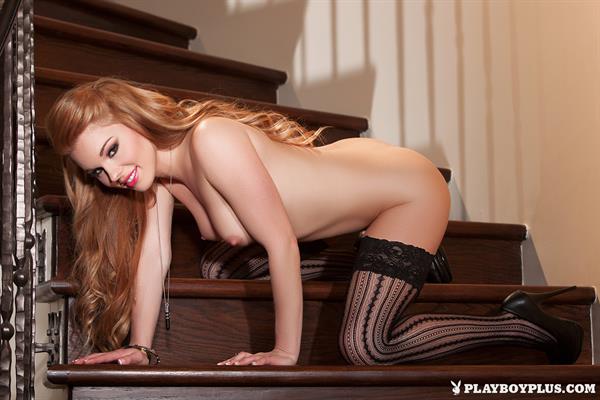 Some people are actually turned off by redheads but Jayme seems to be the perfect example of just how hot one with copper blonde hair can be. She's also got a face that exudes innocence. If you met her on the street, you'd never believe she was in porn. She just seems to be too damn young and too damn sweet to be one.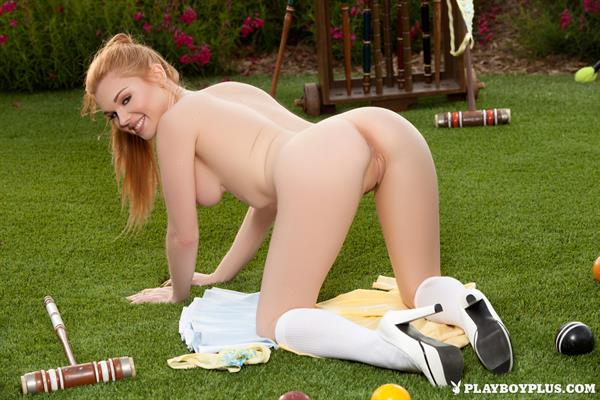 But when the clothes come off and she's on her back being plowed, she shows that she has what it takes to be onscreen in all her naked glory. She's taken the biggest cocks out there and she's still managed to keep her tight pussy looking as if nothing's ever been in there before.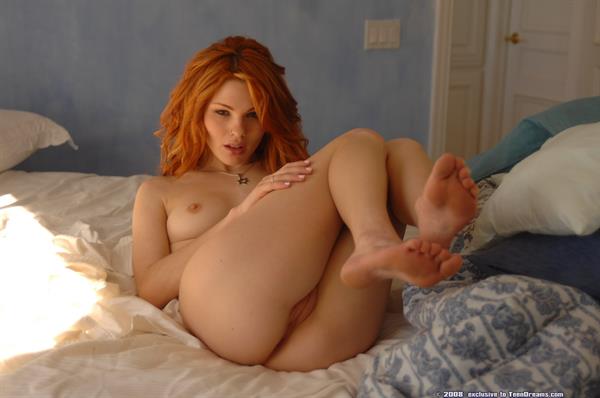 It's a good thing she switched to girl-girl scene later on as her career began to soar as she's managed to keep her perfect pussy in great shape for a long time. I miss her scenes with male partners but it seems like she is conscious about her pussy's shape as well and that's why she's strictly maintained women only partners onscreen.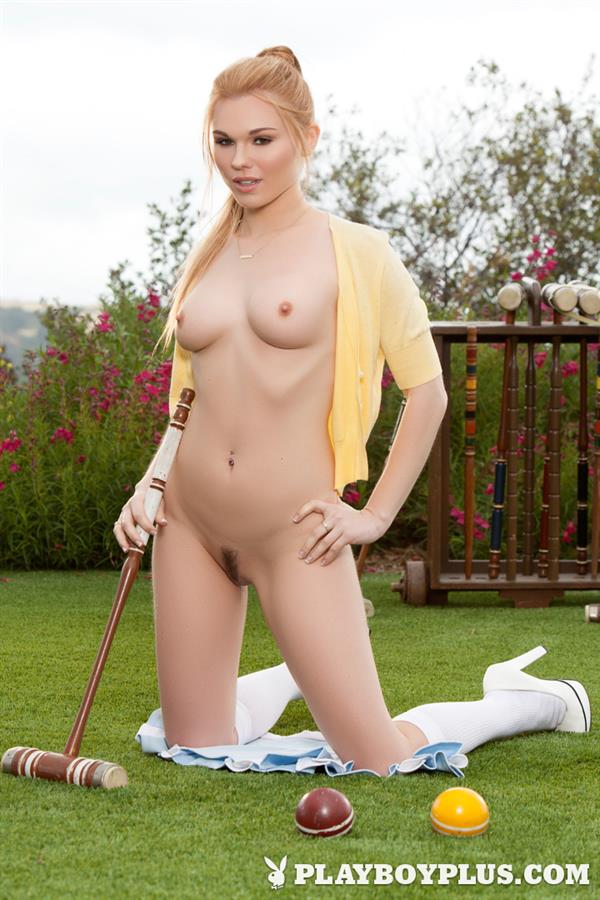 And just when you think she's just a typical porn star whose sole existence is to fuck and to party, another aspect of Jayme comes out. She's also a musician. She formed a band with fellow porn stars Jana Jordan and Louisa Lanewood.
She is still very active in the porn industry and has proven to be a very entrepreneurial person with a lot of activities filling up her day.