(Editor Note: Be sure to check out the Leanna Decker videos at the bottom of this post)
Leanna Decker is Playboy's Cyber Girl for 2011.  This fiery redhead sure knows how to raise the room temperature with her sexy body!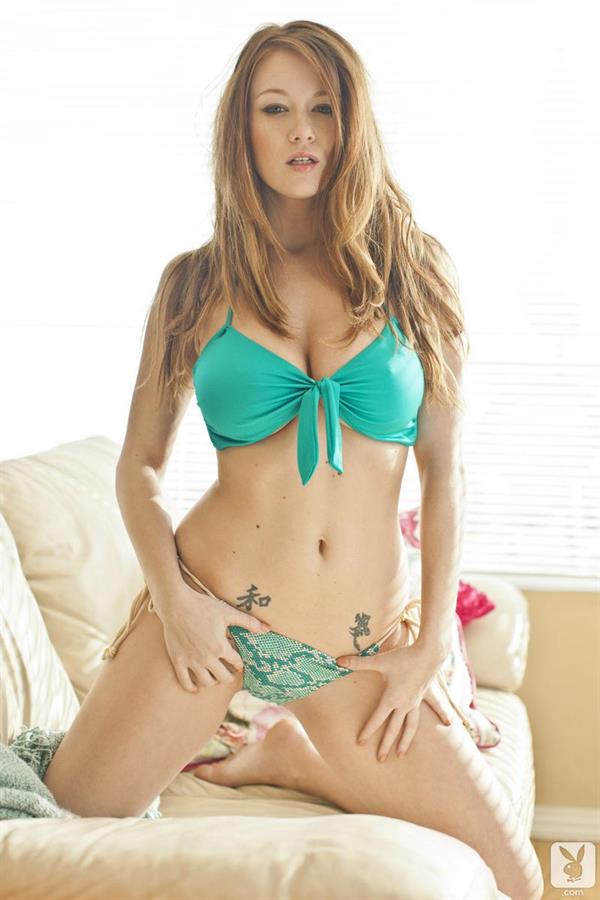 Who Is Leanna Decker?
This is Leanna Decker.  She's a redhead.
Leanna Decker also has green eyes.  No, she's not Irish.  She was born in Ashland, Kentucky, and the 26-year old remembers growing up as a tomboy, with her brother as her best friend.
Leanna's a smart and a very happy girl who loves bursts of spontaneity.
She loves getting into random situations.  And she's sizzling hot!  Oh, and she likes to roller skate. 
Leanna Decker is Not Camera-Shy At All
Leanna Decker may have led a rough and tumble life as a youngster but that doesn't mean she was oblivious to the fact that she was hot.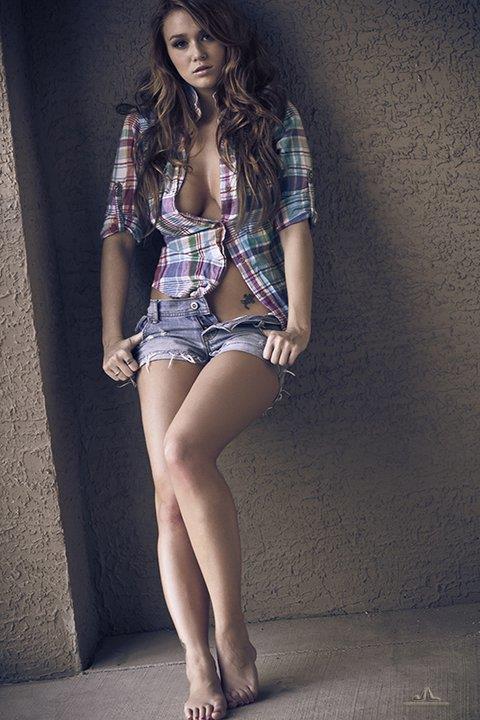 When her love for denim overalls finally gave way to little pretty dresses, a beautiful creature seemed to magically emerge out of nowhere.
No one was surprised though.  They always knew she was pretty.
She was just too much of a tomboy to have been regarded as girly back then.  So, when she finally declared she'd like to do some more feminine activities now, her brother supported her and went off and let her be.
Leanna Decker started hanging out with girls her age and learned things she should have learned years before about makeup, dressing nicely and boys.
What got her attention though was how boys felt towards young girls.  Young sexy girls in particular.
So she did her research and found out guys were especially attracted to girls with large boobies.  Perfect!  She already had those.  Now how to turn that into her advantage?
Answer: The Internet.
Leanna Decker hired a photographer and then created an account on the site, Model Mayhem.  That's what got the attention of the public.
She also indicated there that she's most comfortable in front of the camera.  In fact posing gives her a kind of high.  She just seemed to like it a lot!
She considers herself sexy, sizzling even.  Wouldn't you agree?
Leanna's statement echoes those of other models who have said: to be sexy, you have to feel sexy and be comfortable with who you are.  That sexiness has resulted in some 506,000 followers on Instagram and another 124,000 followers on Twitter. 
Leanna's Best Assets
Leanna Decker considers her breasts as her best assets.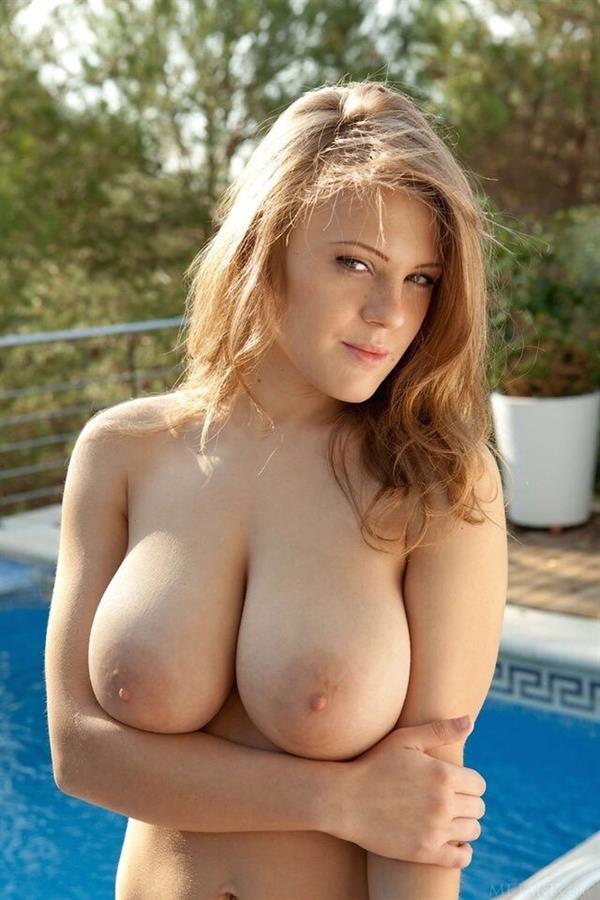 She has also stated that they are real.
And it's really hard not to focus on her boobs.
They're practically screaming for attention.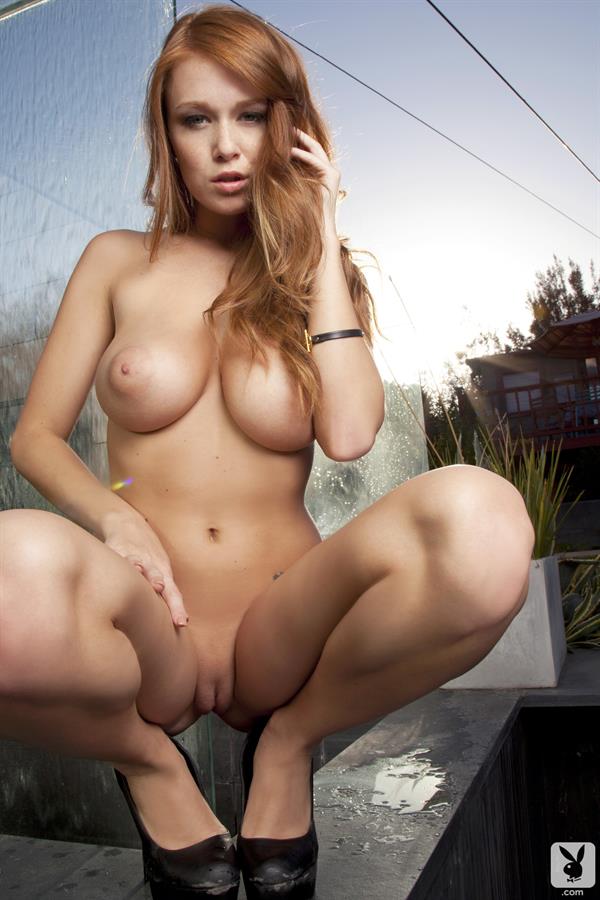 Those are 34DDs son!  34 Double Damns!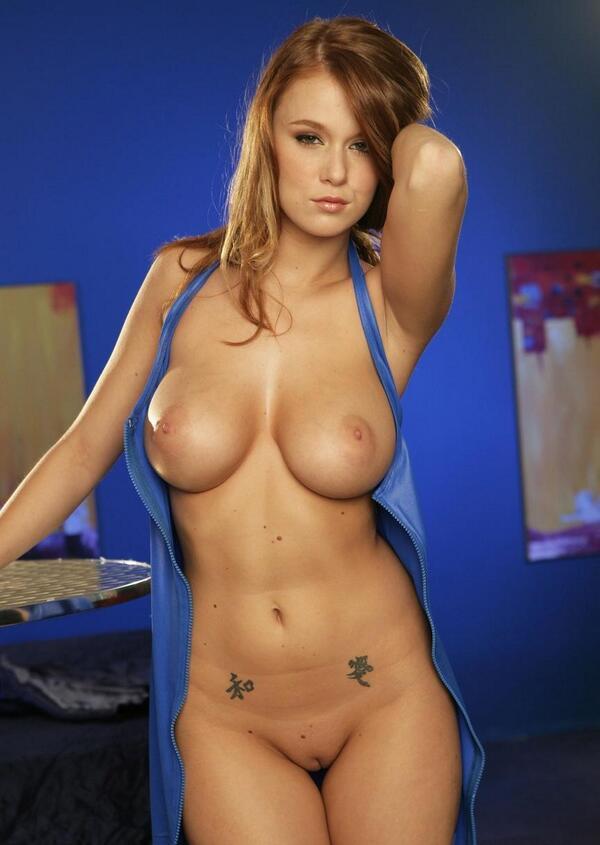 You could also say that one of her real best assets is her red hair.  Yeah, it's definitely a head turner.  For some people, red hair is a turn off.
Me, I flip flop between liking it and hating it.  Maybe I lean more towards liking it.  It's mostly because there's a large population of redheads out there that don't really look that good.
Leanna Decker on the other hand is a perfect example of just how beautiful someone with red hair can be.
It's also pretty indicative of what she's like as a person.  Leanna Decker isn't shy about admitting that she thinks of herself as smart, spontaneous and sexy.  Her hair perfectly mirrors what she's really like on the inside.  Fiery hot.
It's a good thing she's not camera shy because Leanna Decker surely has one of the cutest pussies I've seen in recent years.  She's so smooth like a gynecologists dream.  (Editor note: I don't think gynecologists really care)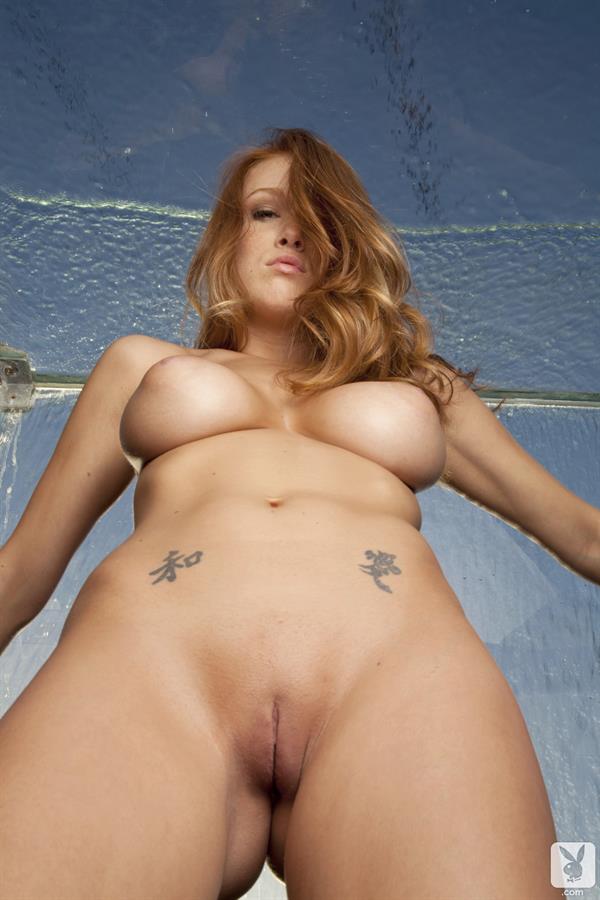 I'm just wondering if she's a real redhead though because I haven't seen photos of her sporting any bush.  Yep, she's shaved smooth as a baby down there.  She says she prefers it that way.
Leanna Decker's ideal Man
Leanna Decker is an old fashioned girl when it comes to relationships.  She goes for the good guys: secure, intelligent, with good hygiene and a sense of humor.
If you have bad breath or a strong body odor, you'll have to make the necessary adjustments to address those issues.   She's easily turned off by those things.  So grab a toothbrush and shower often if you fancy taking a shot at her.
One way to also get into Leanna's affections is to be an animal lover.  She is very passionate about animals.  She loves them all!
Hint: you'll get extra points if you're passionate about anything panda related.  She loves them!
In bed, Leanna Decker says she wants to be completely dominated.  She wants to feel like a helpless little girl getting her pussy pounded like a jackhammer.
She wants you to give her a reason to scream.  And she doesn't care if the neighbors hear.
You'll also have to be creative because she easily gets bored with the standard missionary position.  She wants you to bend her in unimaginable positions.
You won't have to worry about breaking her in two because she's very flexible.
She can do kinky stuff if the right mood strikes her but she mostly sticks to just your naked body and hers connecting in incredible ways.  Okay, well maybe a toy can be brought in every now and then but don't depend too much on that happening because she pretty much has an ambivalent stance towards those.
Here's an idea: Dress up as a panda and bend legs til her knees touch her face and fuck the shit out of her.  That might work.
Or not.
It's worth a try.
Oh yeah, she may have said she loves being in front of the camera but don't even think about bringing one into the bedroom when it's time for some red hot loving because she simply will not allow it.  Leanna Decker knows all too well about the horror stories celebrities have when it comes to leaked personal porn videos and she doesn't want to be a part of that statistic.
For her, what happens inside the bedroom stays in the bedroom.
Well, maybe she'll have to make an exception about the sounds she makes when she's reaching her orgasm but that's about the only thing the public will know about her sex life.
Oh, and learn to skate.  That's also a major turn on for her.
Leanna Decker Is A Very Fascinating Red Head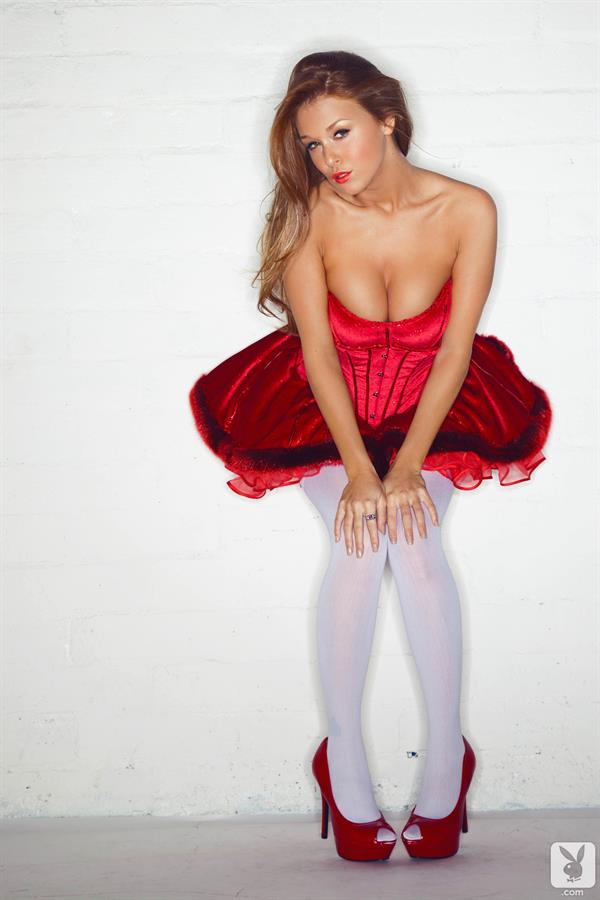 Leanna Decker is a very interesting woman.  Aside from her being obviously sexy, she also has many interests that a lot of people can relate.
She's very outspoken about animal rights and she participates in rallies that seek better treatment for pets and wildlife alike.  You already know she's into pandas but did you know that she once pledged to sell all her jewelry to help save giant panda bears?
Now that's what I call passion.
Roller skating, to this day, remains a constant in her life and she can often be found enjoying herself gliding along in skating rinks.  She tries to stay in places where there are areas to skate in.  That has always been her consideration whenever she moves from one place to another.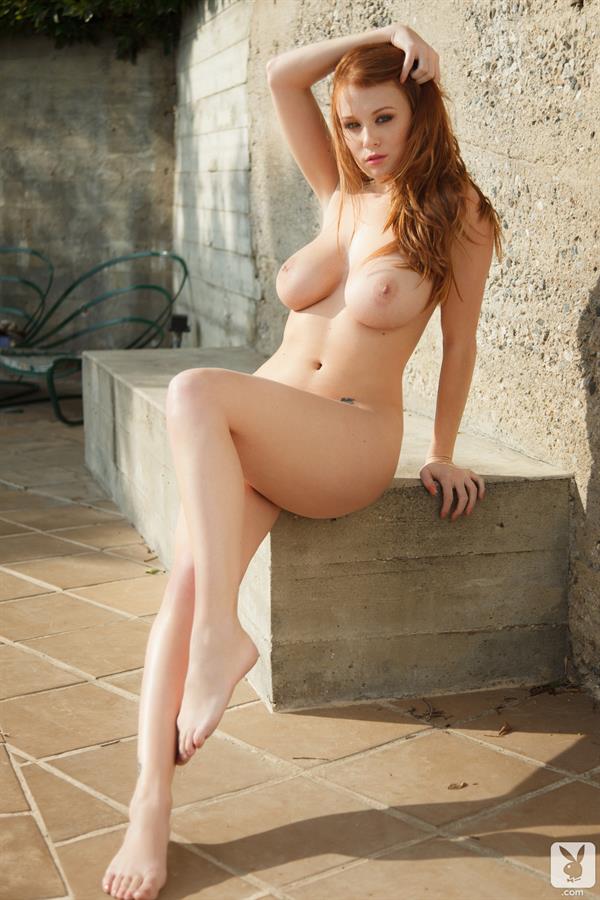 She's as close to her brother today as when they were kids and they often go out of their way to meet up and skate.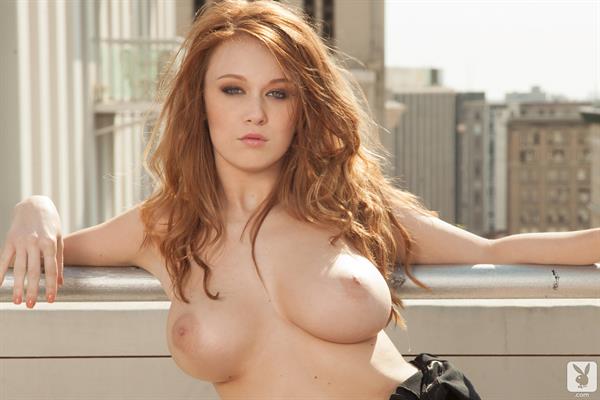 No, there's no Games of Thrones shit happening here!
It's just a plain old bonding time for two siblings who love one thing which is roller skating.
Being a Virgo, she can be at times mistaken for being a bit flaky.  She just likes to do a lot of random things.  And if she could do it all in one day she probably would.
She's on her way to becoming a vegan because of her stance on animal rights and all that and she says it has totally changed her life.
Although she already is very athletic and has a high energy level to begin with, eating only plant based items in her diet has definitely given her a boost.
She likes living life to the fullest and strives to be happy all the time.
I think she's already pretty happy with her accomplishments in life.
Leanna Decker is Cyber Girl Personified
Most Playboy Cyber Girls don't really understand how the Internet works.
Leanna Decker on the other hand has used it to her advantage.
Her fame started through Model Mayhem and the impact it has had on her life half a decade later is the reason why she's working hard to understand the power of social media and other online avenues better.
She's constantly putting out pictures of herself to various websites and even has accompanying videos every now and then just to keep people interested.  It seems to be the perfect strategy for what she's trying to accomplish because the public's response to her is extremely positive.
She currently has a very active twitter account where she continuously trades messages and tweets back and forth with her followers.  She totally engages them which is how she has amassed such a huge number of followers.  If you want to be one of them, here's her Twitter account: https://twitter.com/leanna_decker
And because Instagram is the go to place for people looking for beautiful women to look at, Leanna Decker has also made sure she doesn't miss out on that opportunity.  Here's her Instagram: https://www.instagram.com/leannadecker_