Sara Jean Underwood was Playmate Model of the Month for July 2006.  She went on to become the Playmate of the Year in 2007.  (Here's the gallery: Playboy Sara Jean Underwood)
Sara Jean Underwood and Carrie Underwood are not related
Let's get this straight, Sara Jean Underwood is no singer.  She's also not to be confused with Carrie Underwood. (Editor note, I don't think anyone was making that mistake but okay)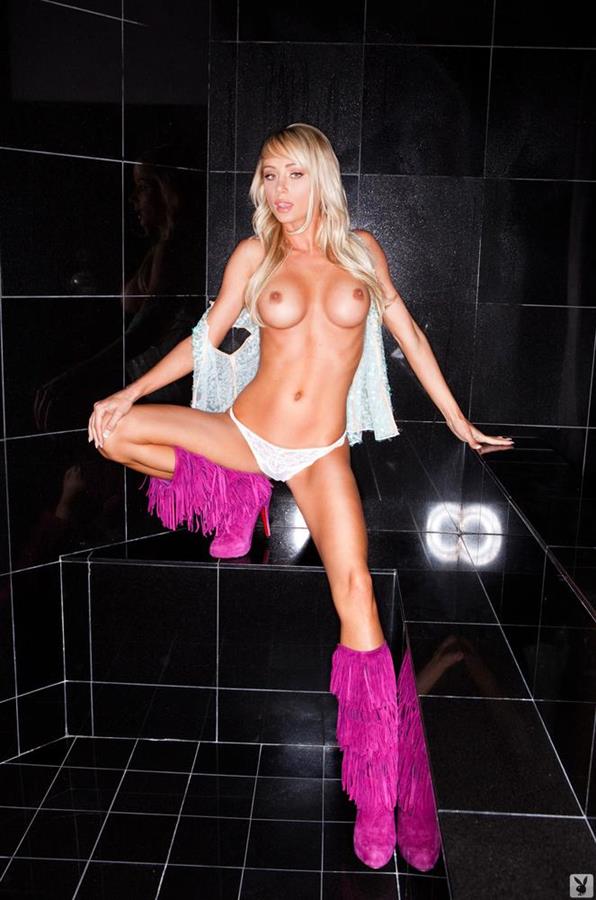 The two share the same last name but are not related in any way.
They're equally famous though and maybe that's what draws initial comparisons between the two.  (Editor note: again, I don't think anyone has compared the two… other than you)
Sara Jean Underwood The Early Years
Sara Jean Underwood was born on March 26, 1984 in Portland, Oregon.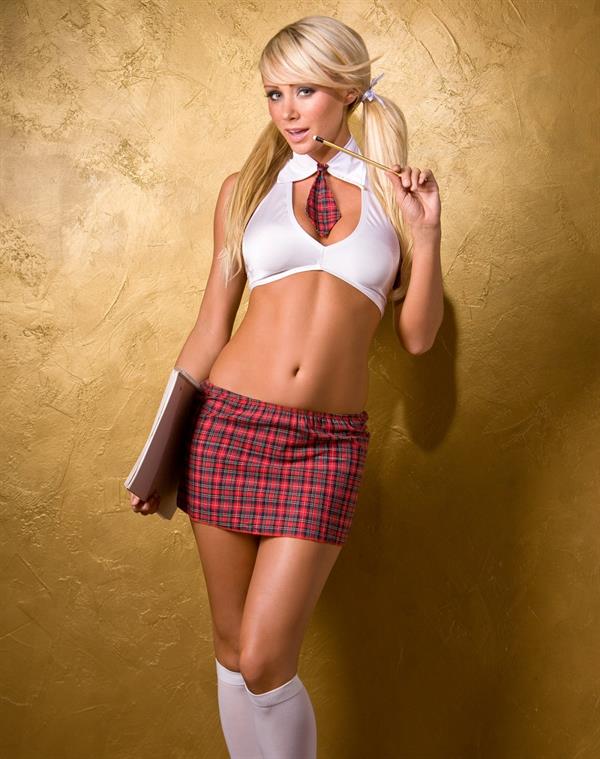 She went to Scappoose High School, where she was a member of the volleyball team in junior high.  She majored in Business Marketing at Oregon State University.  After graduation, she got a job in sales in the construction industry.  It didn't take long for her to leave the mundane life she led for one under the spotlight as a Playmate. 
Sara Jean Underwood, One of the Hottest Playboy Celebrities
Sara Jean's time spent at Oregon State U. got her named and featured as one of "The Girls of The Pac 10".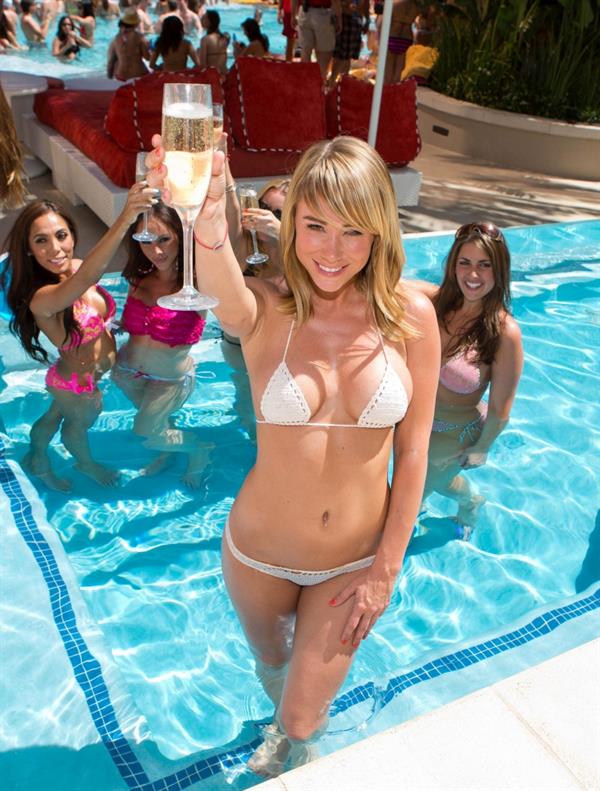 This was featured in a Playboy pictorial in its October 2005 issue.  This also put her on the cover.  From there, she rocketed to fame by being named Playmate of the Month for July, 2006.  Later she was named Playmate of the Year for 2007.
Sara Jean would later recruit another Playmate in the person of Ida Ljungqvist, whom she met while shopping in Beverly Hills. 
Sara Jean Underwood is Cute as a Bunny with Boobs Just the Right Size
Considering the Playboy logo is a bunny, no wonder someone as cute as Sara Jean Underwood was made into a favorite Playmate by the magazine.
Cute and cuddly is more like it when you take in her boobs.  They  seem to me to be just the right size.  I mean, she wouldn't be cute anymore if her boobs were not proportionate to her height, right?  She's just 5'3"with 35-24-34 measurements…
Nah! What am I even saying here?  I say the bigger the better!
Her decision to leave her boobs natural at the start earned her a lot of fans.  Many men long for real boobs and none of that augmented shit most nude models go for.  She was 32B when she was first featured in Playboy.
Later on, she had her breast size adjusted to her current 35s for visual purposes.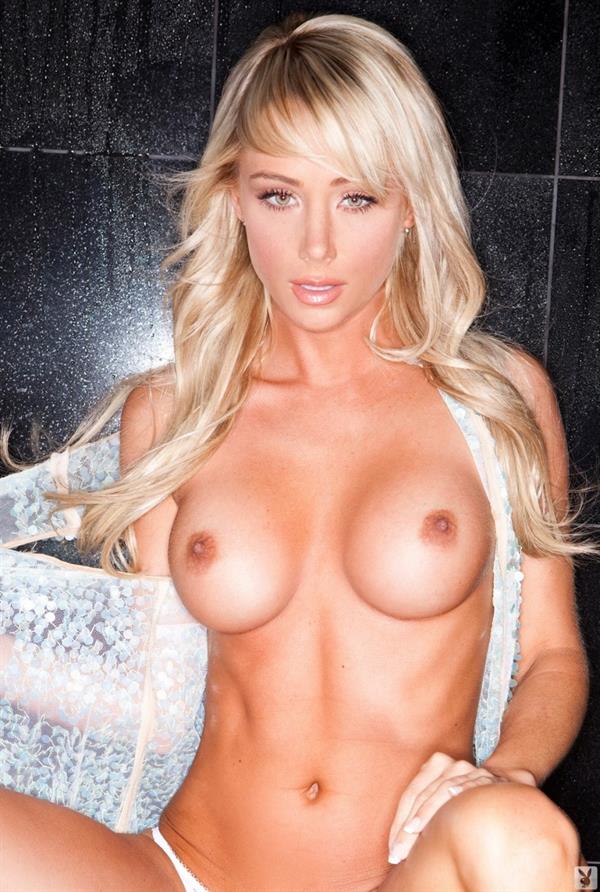 Her boobs are perfect as they already are.  They're big and each one is topped with light colored areolae with a tiny nipple on top of each mound.  Mmmmmm….
To further accentuate her youthfulness, Sara Jean Underwood has a clean shaven pussy and its one of the smoothest vaginas I've seen in the pages of Playboy.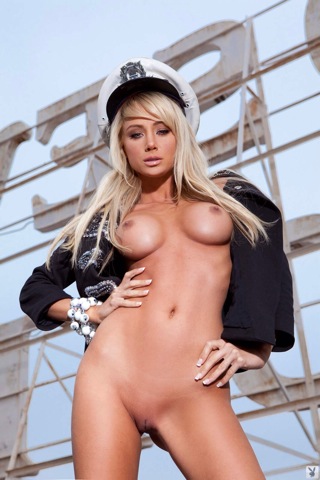 Sara Jean Underwood: All Around American Girl
Regardless of having a really hot body, it is Sara Jean Underwood's looks that totally sell the package.
She looks like the all American good girl.  Much like a younger Jennifer Aniston I might say so myself with the same sweet girl next door demeanor that everyone just loves.
The only thing is: she's not really a blonde.  She's really a brunette who just dyes her hair to look the part.  Maybe that explains why she's so smart…
Anyway, Sara Jean Underwood also has very beautiful green eyes that you can lose yourself into if you dare stare at them for a long time.  Equally captivating is that wide smile that just hints at the naughty girl just hiding underneath the surface of her nice girl looks.
Aside from Playboy, Sara Jean has been featured in other mags.  For example, I first saw a full-page photo of her in Maxim before that mag was relaunched in its new format.
Sara Jean Underwood's Career from Hooters to Hollywood
Hooters waitresses are known for their tight shirts (and shorts), which bring us back to Sara Jean Underwood's boobs.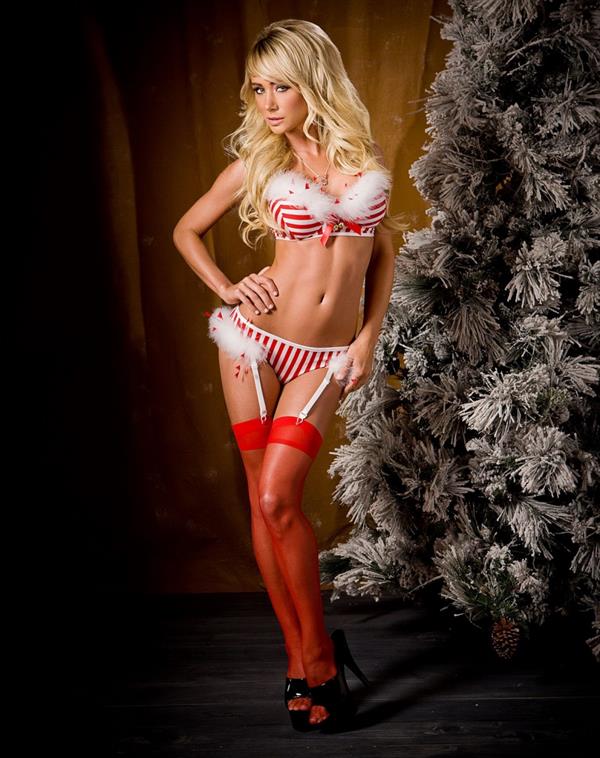 While still in college and before she gained her Playmate status, Sara Jean was a Hooters waitress.  (Editor Note: she's way hotter than any Hooters waitress at my local Hooters)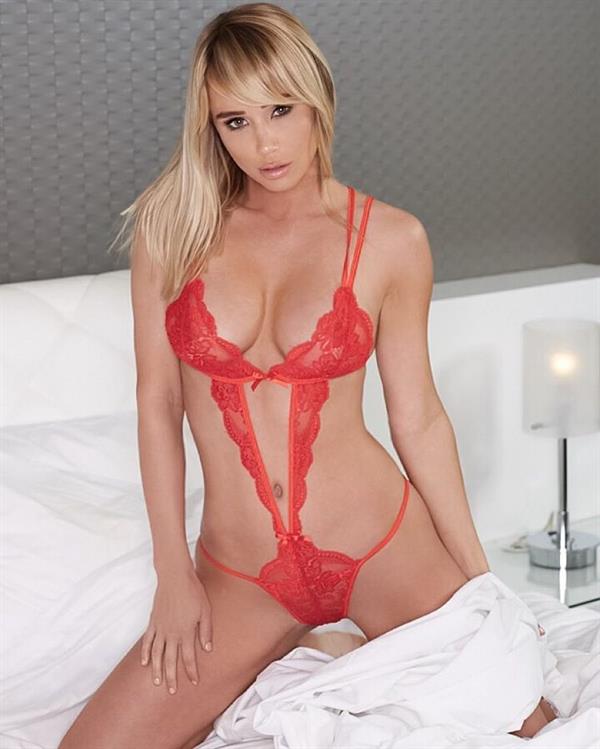 Now, aside from Playboy videos, she also has film credits under her belt which include horror flicks like "The Telling" (2009) and "Deadly Weekend" (2014).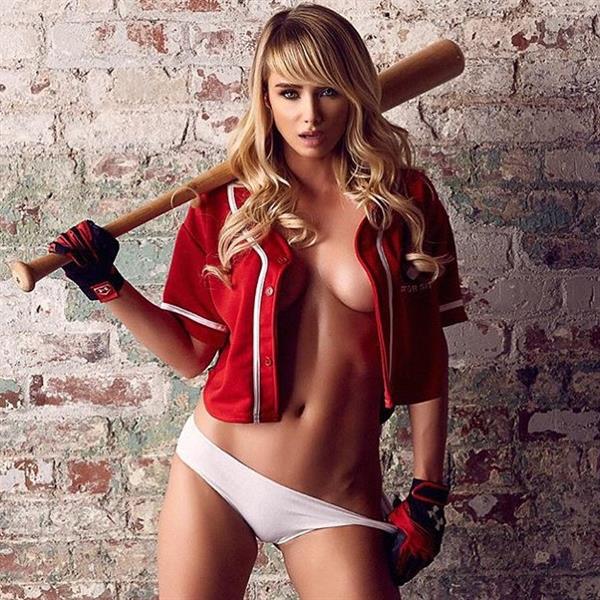 She has also been on Cable TV and was an announcer for Blackbelt TV.
She was on MTV and was featured in the Reality TV Series, "Ridiculousness".
Superhero movies are popular nowadays.  Maybe Marvel could cast Sara Jean Underwood as a blonde super-hero.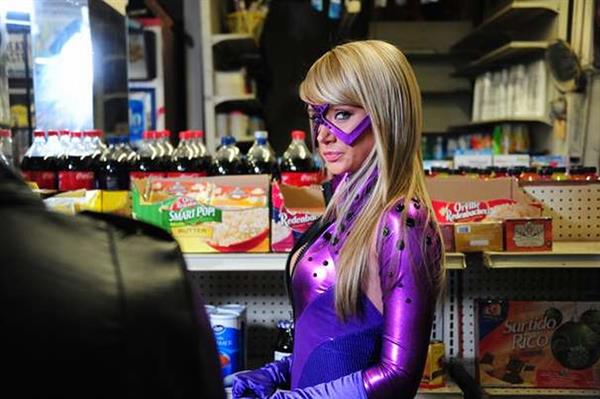 If the part hadn't already been taken, she would have made a convincing Mockingbird, Hawkeye's ex-wife.
She'd be perfect what with her flexible body.  I mean you already get that that impression from watching her videos, right?  Keep scrolling, there is a video coming up of her doing nude yoga.
Sara Jean Underwood is a big nerd and has Other Interests
Sara Jean Underwood loves to travel, and she's been to Japan as a participant in the Kunoichi (obstacle course) competition.
Its known here as the Women of Ninja Warrior, so it's the real deal.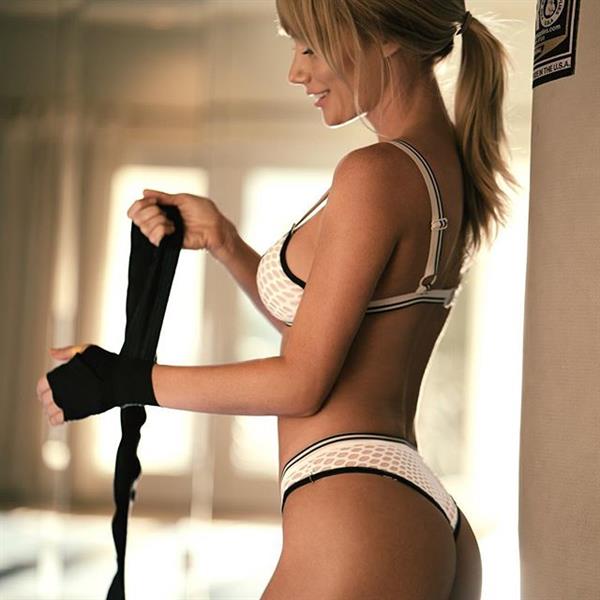 Sara Jean Underwood being an avid yoga practitioner was able to wow everyone when she finished the first heat with little effort.  Too bad being a yogi is no match for the dancing stones on the second heat.
Still, that's a pretty good indication that there's more to this girl than meets the eye.
She is also a professional poker player.  We mean real poker, not strip poker, but nothing can stop us from dreaming.  Yeah, we've seen her in all her glorious nakedness but getting to see her strip slowly would be a welcome treat, wouldn't you say?
Sara Jean Underwood also considers herself as a big nerd.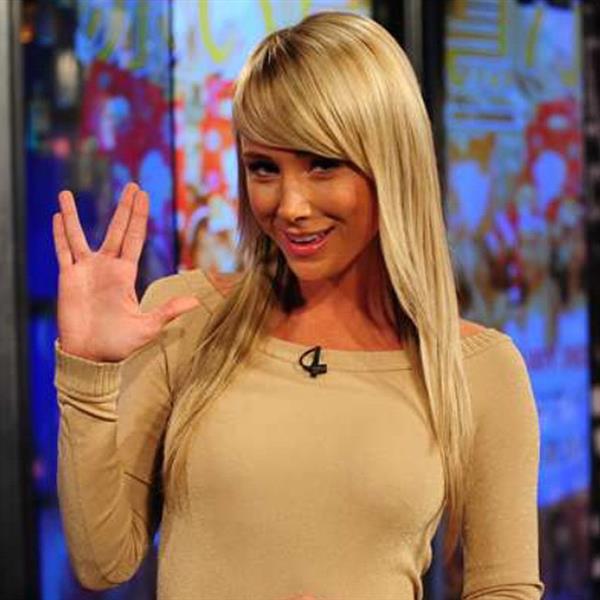 She is also a Ruby on Rails programmer.  She even released a beginner's book on the computer language.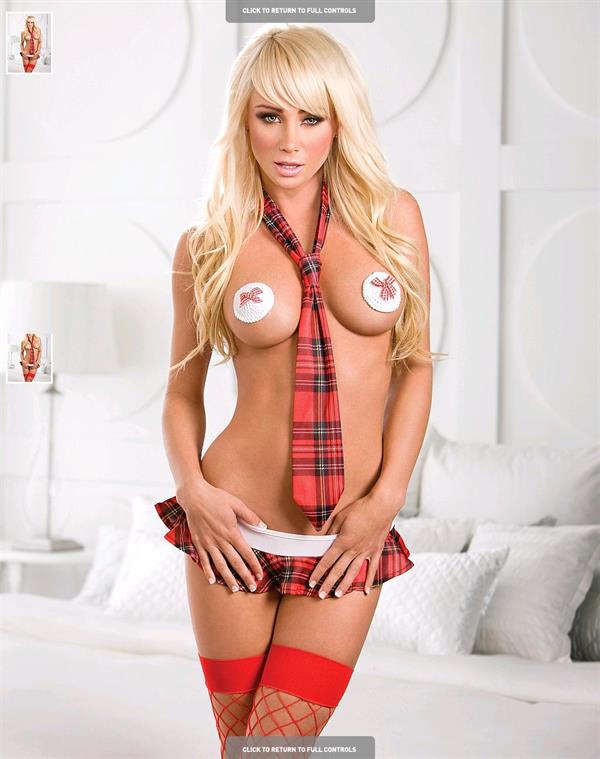 Sara Jean Underwood Is Online
Like most celebrities these days, Sara Jean Underwood has also taken to the Internet to keep herself relevant with the changing times.
For pictures and other images she shares of herself and her personal life, visit her Instagram page: https://www.instagram.com/saraunderwood/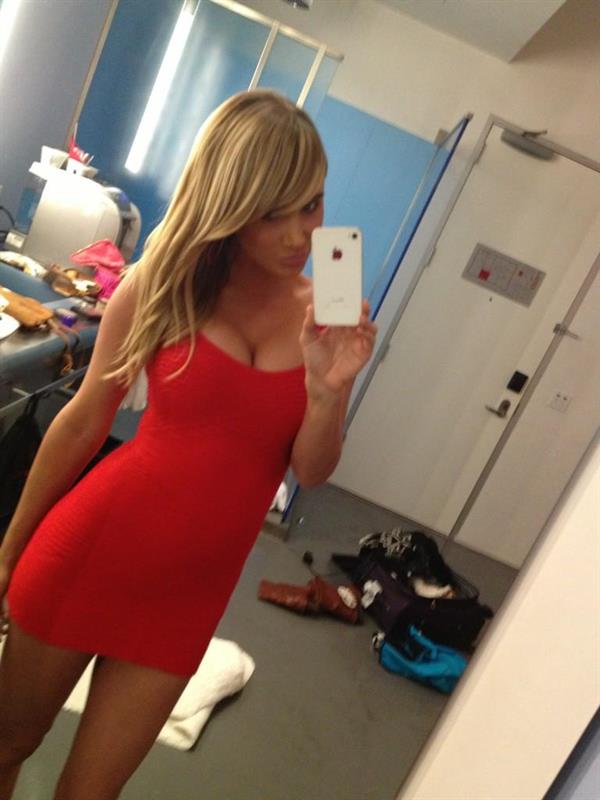 To send her a direct message or simply check up on what she's up to these days, check out her Twitter: https://twitter.com/saraunderwood
And please, don't ask her about Carrie Underwood. Once again they're not related.  Just equally popular.