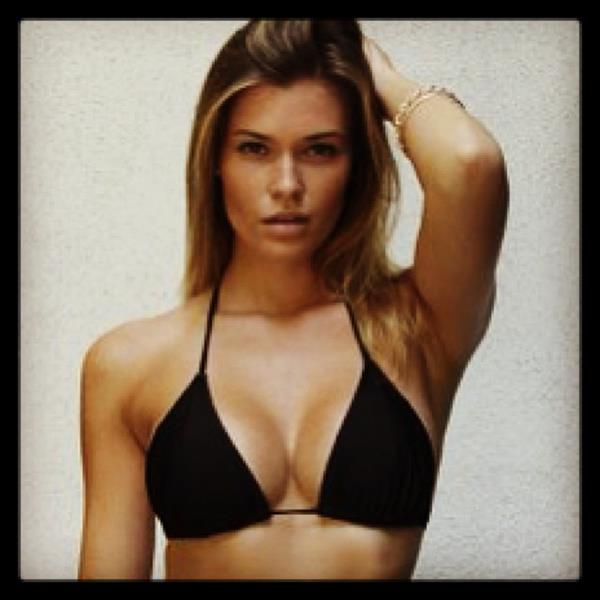 You'd think that with a last name like hers, Samantha Hoopes would be involved with the sport of basketball.  Well, she's not.  She's one hell of a volleyball player though as evidenced when she competed in the Sports Illustrated beach Volleyball tournament back in 2014.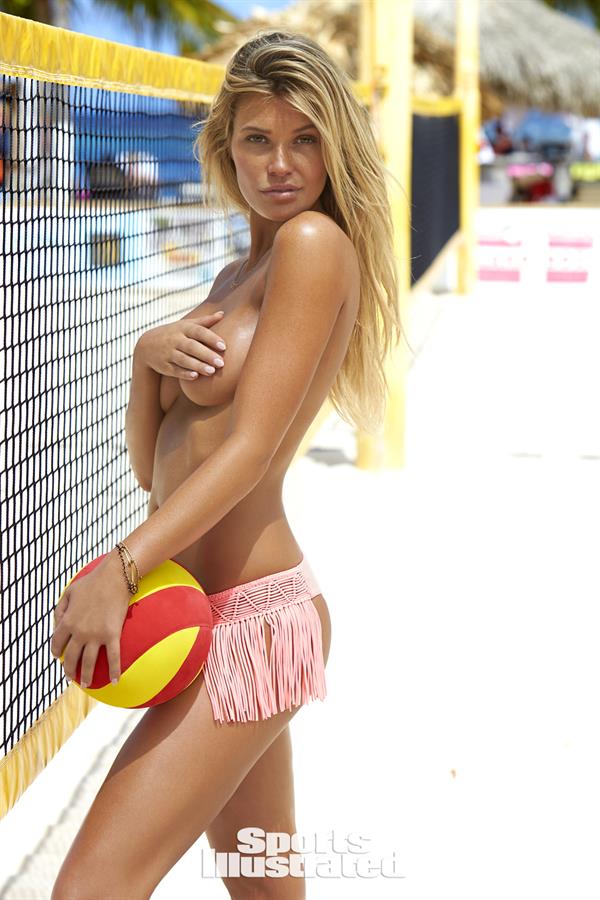 Now if there's one women's sport watching, I'd have to say that's the one to look out for.  Well, there is mud wrestling but we don't see too many models doing that so beach volleyball it is then.
The Sports Illustrated Beach Volleyball Tournament gave us a rare glimpse into the active lives of some of the most prominent models showcased on the prestigious magazine.  There we get to see that these girls aren't all just about looks with their athletic bodies, they could actually give you hell if you step into the court!
This is when I first noticed Samantha Hoopes.  Well she was part of the Sports Illustrated 50th Anniversary Swimsuit issue so that's another place where she first got my attention.
And it wasn't just because of her smoking hot body.  Nope, I usually focus on their faces instead of just their ass and boobs.  Okay, okay, I do look at them from the butt going up, so yeah you got me.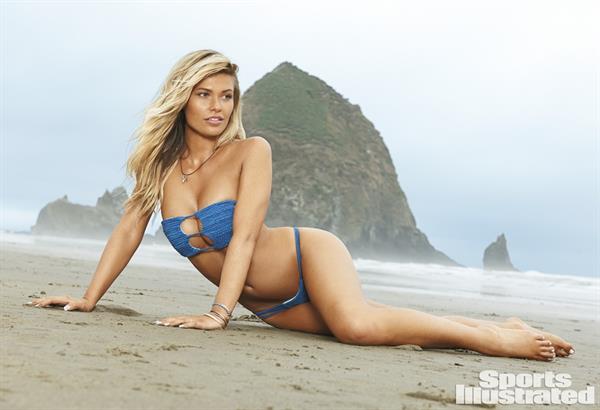 And could you blame me if I checked this chick out in that order?  I mean come on, just look at her!
Samantha Hoopes' well shaped ass will give any black girl a run for her money.  There is no flab present on her magnificent behind.  I bet you'd hurt your hand if you slapped that ass!  Thanks to her strict physical workout regimen, Samantha Hoope's ass is a winner!  And if you want to know how that feels, get your girl to do some squats.
Moving up, Samantha Hoope has abs you can use for washing clothes.  Although rock hard, it's still very feminine and appeals to most men's need to have their females all soft and cuddly.
Although she's still an all American girl outside the court, Samantha Hoopes takes on a very different persona when the ball's in her hands.  And I think that transformation even extends into her physical look when it's time to play.  During the volleyball competition we got to see that those abs aren't just for show.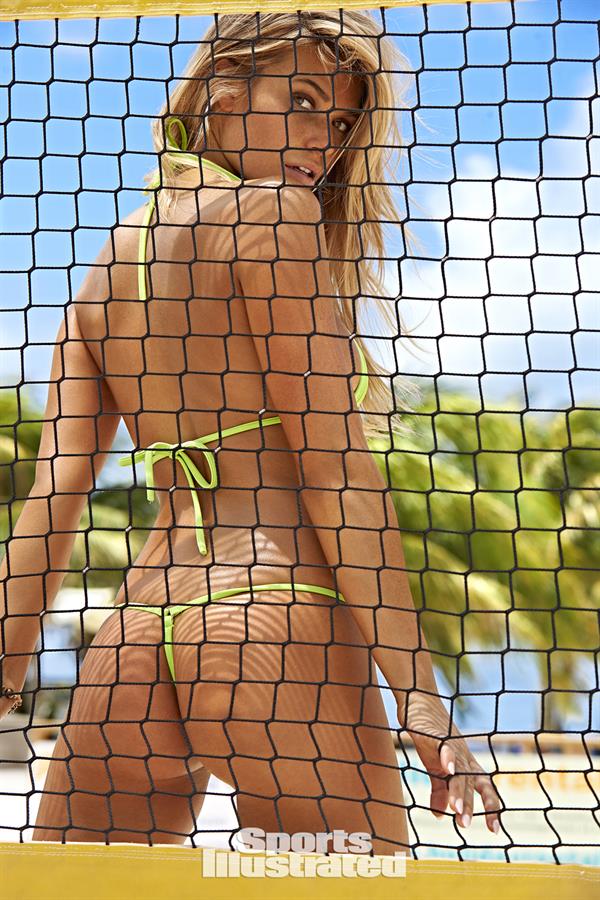 And who can forget those humongous knockers swaying in the wind as she delivered shot after shot during play time?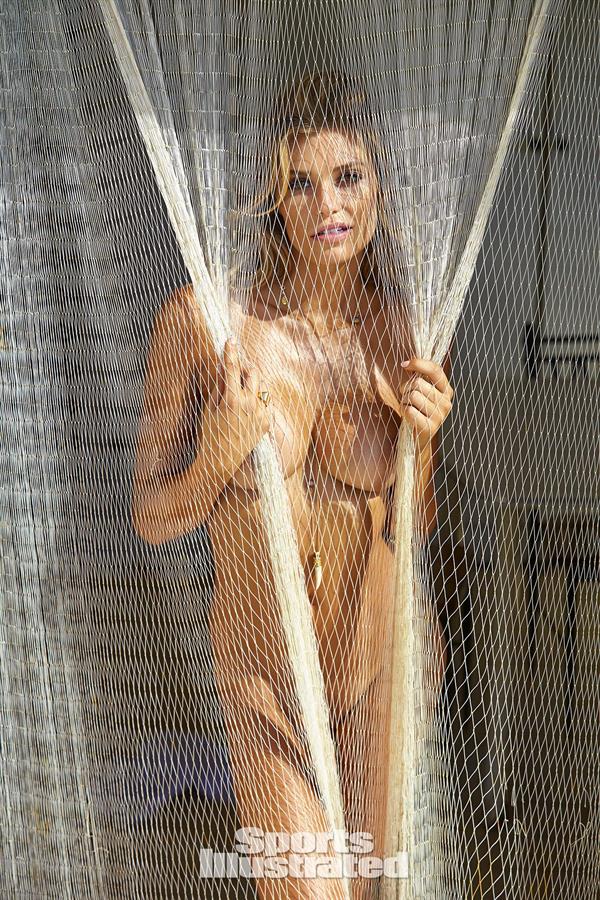 Samantha may have a glorious piece of ass but that doesn't mean she's lacking in the boobs department.  Those boobs simply don't seem to belong to someone who's only 5'8" in height.  Those are legitimate D cups and she somehow manages to make them work with her relatively tiny frame.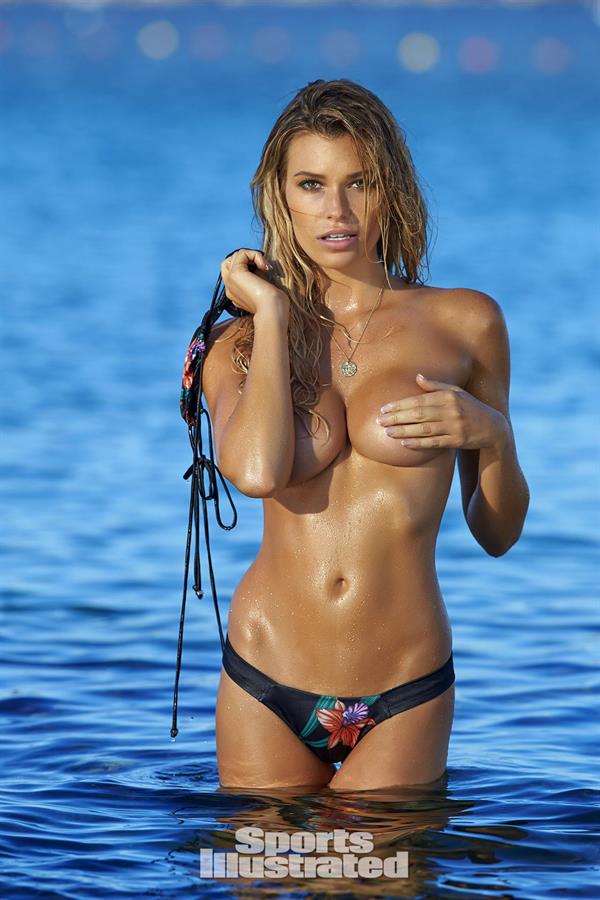 After the Sports Illustrated shoot, word got out that Samantha Hoopes was not only one of the hottest models managed by Elite LA and Select Model Management London, but thanks to her outgoing nature and easy smile, she was also one of the easiest girls to work with .  That's usually the attitude you find in athletes and Samantha being one has all the qualities that makes her a terrific team player whether on the court or in front of the camera during a photo shoot.
As what usually happens with Sports Illustrated models, Samantha Hoopes got picked up by Maxim on the same year.  She ended up ranked number 18 on the 100 Hottest by the end of the year for Maxim.
With the amount of exposure she got from both magazines, it was enough for Guess to contact her and make her the face of Guess.  Oh 2014 was a really good year for Samantha Hoopes!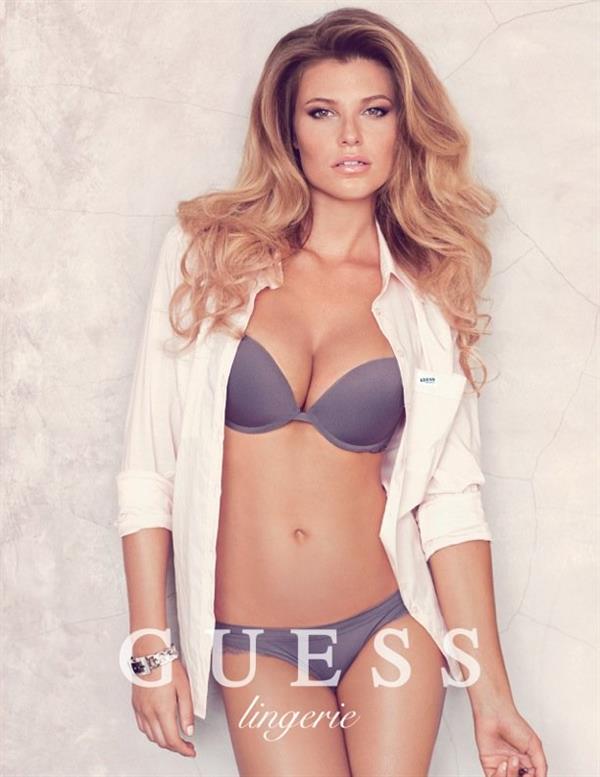 And at only 23, there seems to be no stopping for Samantha Hoope's journey to model super stardom.
Samantha Hoopes is currently a model for Levi's Jeans.  Walk into one of their stores and you'll probably notice her but not in the way you'd expect to because she usually has her back turned towards us.  Levi's sure knows how to market their goods because they know Samantha Hoopes has a really nice hiney and damn she makes those jeans look really good with that hot spanking ass!
Carl's Jr and Hardees have also made it a point to make her a part of their Most American Thickburger campaign.  Her appearance there further solidifies that she is now a sex symbol.  Marketers know that she can be harnessed to successfully launch and market products to the buying public.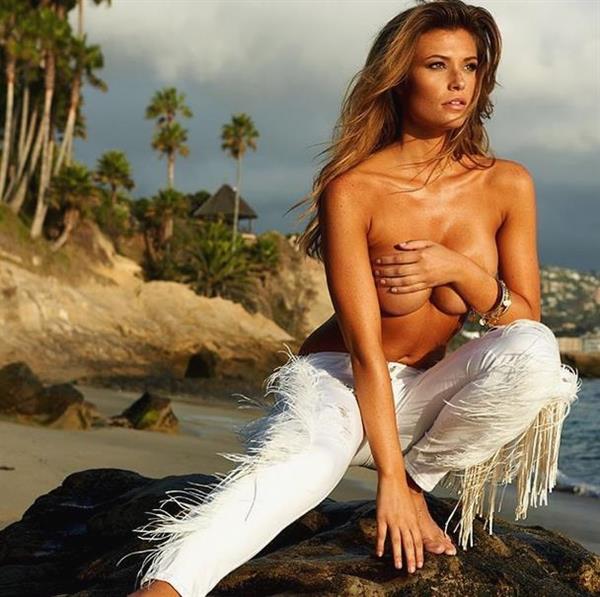 Damn, I've come to realize that this is such a tame article for someone as hot as her!  Samnatha Hoopes has a good head on top of her shoulders and has avoided unwanted controversies.  There's no dirt on her that I can uncover…. Yet.  Yeah, that's the operative word there.  Sooner or later something's going to come up and I know it's going to grab everyone's attention!  Samantha Hoopes isn't all about beauty.  She definitely has the brains to set her apart from the rest of her peers.  With a Major in Business under her belt, you know she knows what's going on with her career.  She probably has a very active role in steering it towards the right direction.
Samantha Hoopes on Social Media
Other than her fashion shoots and appearing on billboards, Samantha Hoopes is one of this generation's models who have found success on Instagram and other popular social media platforms.  With almost 850 thousand followers, Samantha Hoopes Instagram account isn't anything to scoff at.  And she probably isn't going anywhere anytime soon.
She's very active on her Instagram, Facebook and Twitter accounts (yes, in that order) and regularly connects with her followers so maybe it's time you jumped on that band wagon and became a Samantha Hoopes fan!
Anyway, here's her Instagram account if you haven't had your fill of her boobs and ass yet.
https://www.instagram.com/samanthahoopes
And if you want to message her directly, here's her Twitter account
https://twitter.com/samanthahoopes
And if we've made you a fan of hers today, when you message her, can you put in a good word for us?
Yeah, we'd really appreciate that!