Jennifer Aniston is the perennial sweet, girl next door type who is gifted with good looks and charm.  She became the blueprint for all other females cast in lead roles in TV sitcoms ever since.  This is mainly due to the fact that the Rachel Green character she portrayed in the wildly successful Friends TV sitcom was so well received by audiences all over the world.  That still continues to this day.
Jennifer Aniston's Early Life
Jennifer Aniston was born to act being the only daughter of two accomplished actors, John Aniston and Nancy Dow.  She is the only girl among three children and that explains why even though she looks as feminine as she is, she is as tough as any boy in the neighborhood. Growing up, Jennifer Aniston lived a very active lifestyle playing alongside her brothers.  This shaped her character to become who she is today: a tough, funny girl who can switch between being tomboyish and being ultra feminine.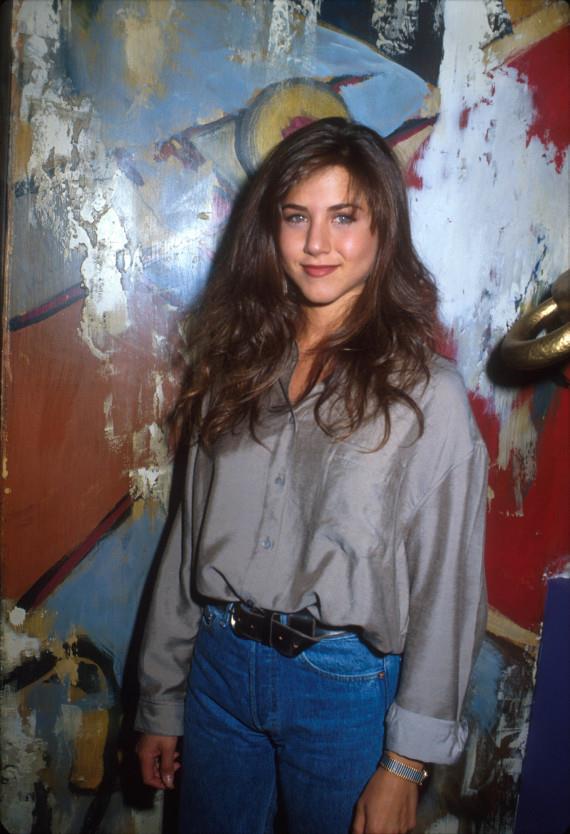 It wasn't soon before Jennifer Aniston became interested in what her parents were doing since they were in Days of our Lives (John Aniston) and The Wild Wild West (Nancy Dow), pretty popular TV shows in those days.
Because of her insistence to be just like her parents, Jennifer was enrolled in the Waldorf school where she was able to fully express her artistic side.  After graduation she enrolled in the Fiorello H. LaGuardia High School of Music and Art and Performing Arts.  This is where she got her first real taste of what it was like to be an actress and perform onstage.  Although drama was her main focus during her tenure in that educational facility, Jennifer Aniston's great sense of humor couldn't help but shine through which was easily picked up by people around her.  When asked, all her former friends, classmates, teachers all say Jennifer Aniston was equally as funny as she was able to evoke tears during dramatic performances.
Her education lead to performances for Off Broadway productions before her career headed for the Big Screen with a little detour doing TV performances of course.
Jennifer Aniston's Career Before Friends
Jennifer Aniston was by no means an overnight success.  Oh we all remember her as Rachel Green now but before that TV show took off she was basically thinking of calling it quits in the acting world due to 4 failed TV shows beforehand.  Those were, in no particular order: Molloy, Ferris Bueller's Day Off (not the movie), Muddling Through and The Edge.
Those failed to take off despite Jennifer Aniston's full commitment to playing the roles she was in.  Oh she shone in each scene she was in but she just didn't shine enough to help make those TV shows a success.  I'd say it was overall bad casting and horrible scripts that killed those TV shows.  Jennifer should've been included in a cast with more star power in it.
It was only the TV adaptation of Ferris Bueller's Day Off that probably had any level of success in bringing Jennifer Aniston to the attention of casting directors and other companies.
Aside from being cast as a regular in those 4 TV shows, Jennifer also had a few guest appearances that I'd bet she'd want to forget ever happened.  Think: Camp Cucamonga and the movie Leprechaun.
She did do bit parts in TV shows that had some cult following like Quantum Leap and Burke's Law.
Jennifer Aniston and The Beginning of Friends
The stars did seem to align properly and Jennifer Aniston was soon cast in another ensemble cast type of TV show.  This would eventually become the widely popular TV Sitcom Friends which is probably the most popular sitcom ever to grace our TV sets.  Well, Cheers should probably be on that short list as well as How I Met Your Mother and The Big Bang Theory.
But, at that time, none of the future A listers knew what they were in for down the line.  Jennifer Aniston may have shone brightly in that first episode but underneath her seemingly positive exterior was a girl struggling with the thoughts of finally giving up her dreams of becoming a Hollywood star and just moving back home to focus on her first love which was theater.
Unbeknownst to everyone else involved, she was prepared to treat this as another failed venture in her growing list of cancelled TV shows and bit parts.
Imagine her surprise when the network gave them all a nice bonus and ordered more episodes based on favorable reviews from audiences across the nation.  That started the whole ball rolling for Jennifer Aniston and the rest of her cast mates.
Jennifer Aniston At The Height Of Friends Success
Jennifer Aniston played the character Rachel Green on TV for a good decade.  During her stay as one of the leading actresses, the world witnessed her grow up both as a person and as a thespian.  She was constantly mobbed by the Papparazzi who were all looking to get snapshots they could sell off to magazines and other publications.
It's amazing how Ms. Aniston was able to survive all those years without a really big scandal to derail her career.  Her preference in staying out of the spotlight and remaining home is a big reason how she managed to do just that.
The only things that were usually in the press were Jennifer Aniston's dating relationships, success on Friends and her net worth.  Nothing too bad since most of those reports had positive things to say about her.  She was America's darling and no one wanted to destroy that.
Jennifer Aniston After Friends
Of the Friends cast, Jennifer Aniston can be considered the one who has succeeded the most. While still actively playing her well loved character on TV, Jennifer had also played roles in movies.  She was preparing her career outside of Friends even though no one else saw it ever ending.
Movies like "Rockstar", "The Good Girl", "Bruce Almighty" and "Along Came Polly" eventually lead to her playing in future roles in movies like "Marley and Me", "Horrible Bosses", "We're The Millers" and a host of other films.  She's had her hits and misses all throughout these years but it seems like America doesn't really mind as long as they see their beloved Rachel er… Jennifer on screen.
She's also had her stint doing voice acting.  Perhaps a fall back for her should her looks start to go.  Check her out in The Iron Giant, Storks and Hercules.  Hearing her voice spoken by the animated characters will immediately evoke images of her doing it.  That's how recognizable Jennifer Aniston is.
Jennifer Aniston Fappening and Other Nude Pics
I bet you were getting worried that this was beginning to sound like a Wikipedia entry of Jennifer Aniston's life.  You think we weren't going to show you nude pics?  What type of site do you think you're at?
Of course there'll be nudity here!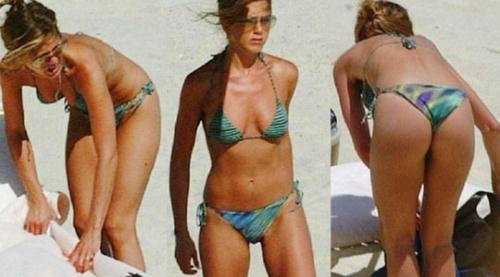 Jennifer Aniston was not spared when the Fappening happened.  Nude pics of Jennifer Aniston showed up back in 2014.  Thankfully, another Jennifer (Jennifer Lawrence) was the main focus of that event so the former Friends star was not as scandalized as the rest of the celebrities featured there.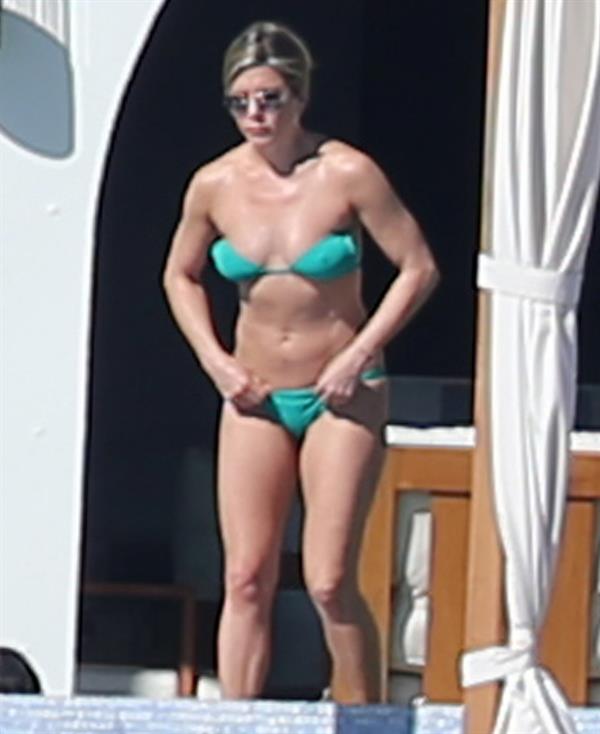 But, if the Papparazzi think they've gotten one up over her, Jennifer Aniston is not the least bit shy about showing her body.  Heck, she's been in multiple publications wearing almost next to nothing. She's even flashed us once or twice in a movie and could you blame her if she wanted to show off that perfectly tight body?  If I was her I'd spend hours and hours in front of the mirror just admiring myself.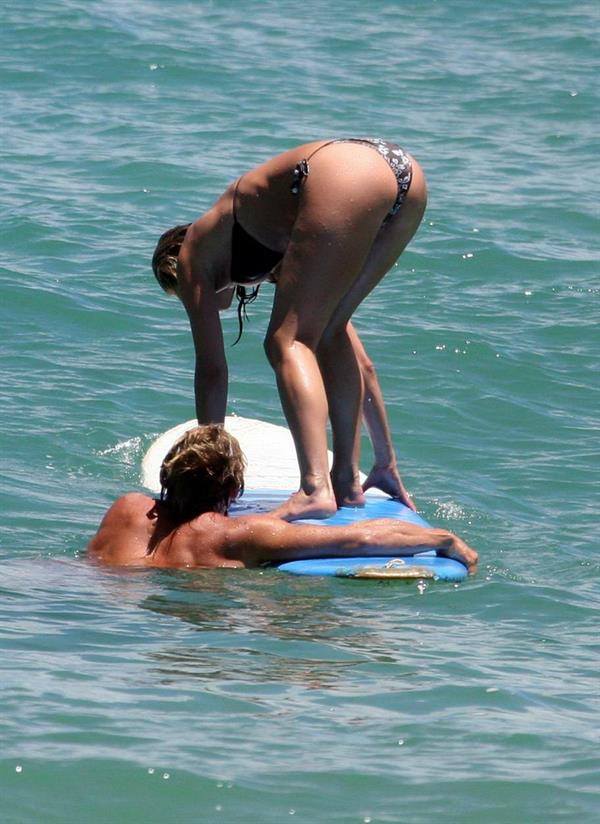 Jennifer Aniston has a very desirable body.  Don't believe me?  She was GQ's first ever Woman of the Year in 2005.  People Magazine dubbed her The Most Beautiful Woman in the World not just once but twice the first time in 2004 and more than a decade later, in 2016!  And she's never been completely out of that list as she is always ranked in the upper 50 of that prestigious contingent of women.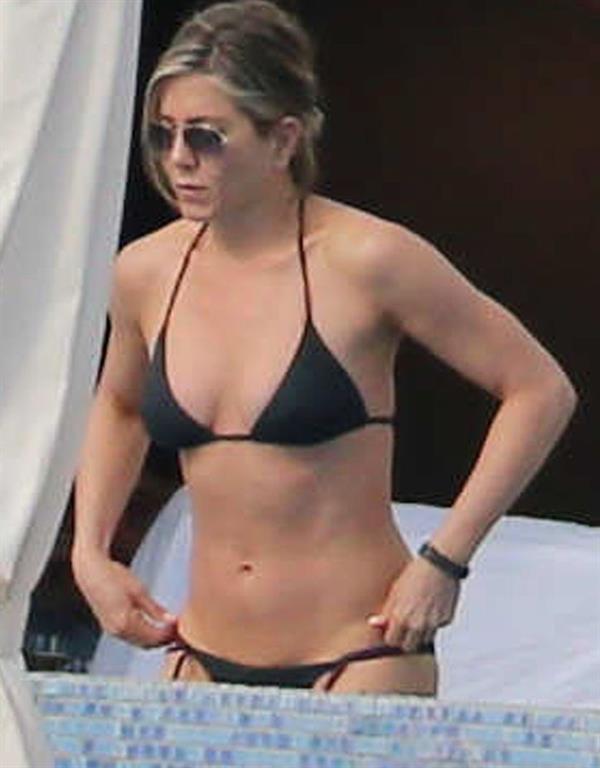 FHM declared her to be one of the Sexiest Women in the World 4 times.  And not to be outdone, Men's Health declared Jennifer Aniston "The Sexiest Woman of All Time"!
All time!  Forever!  I strongly agree.
Check these pictures out: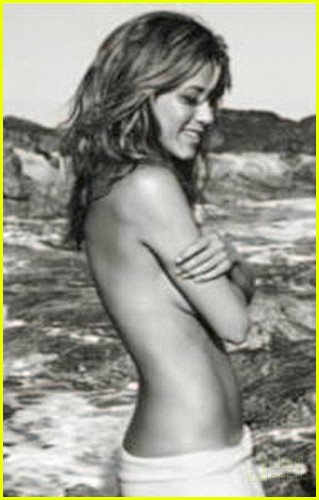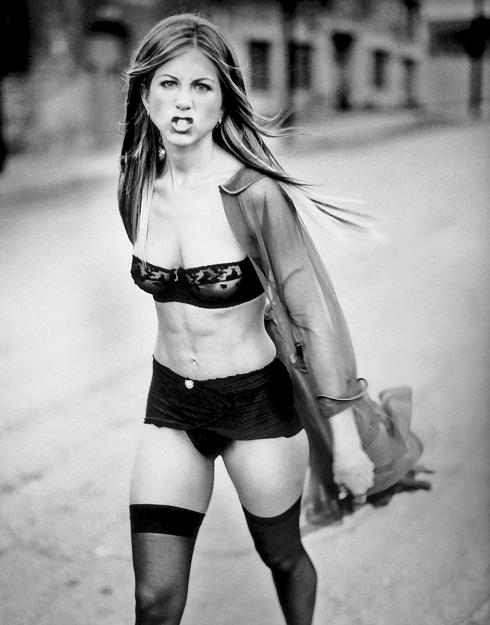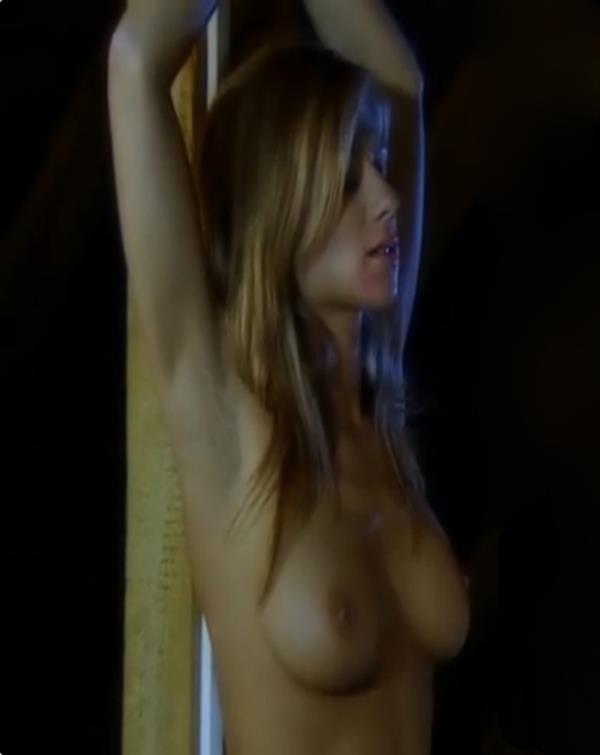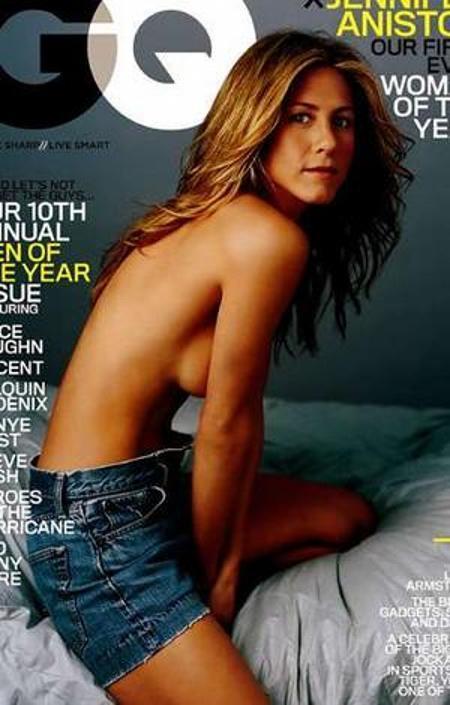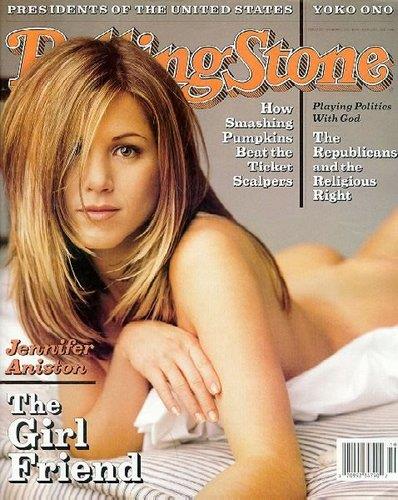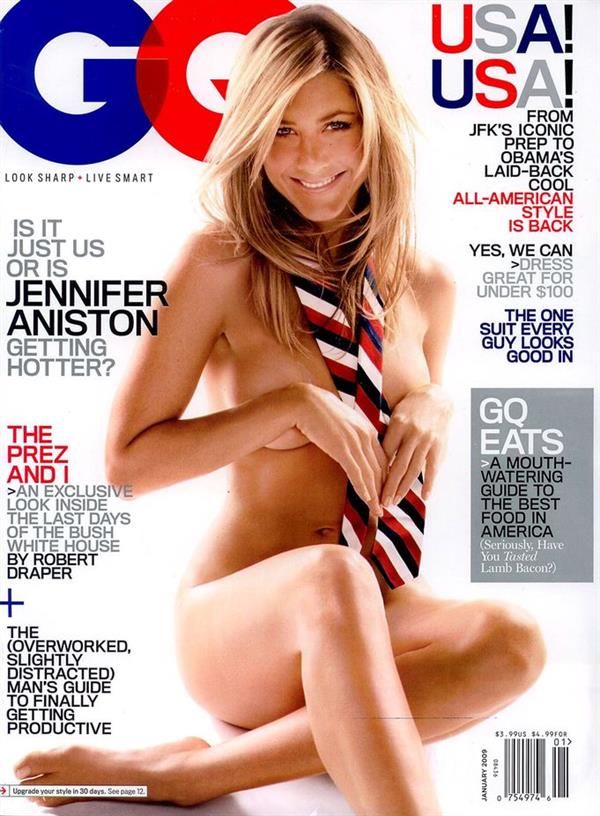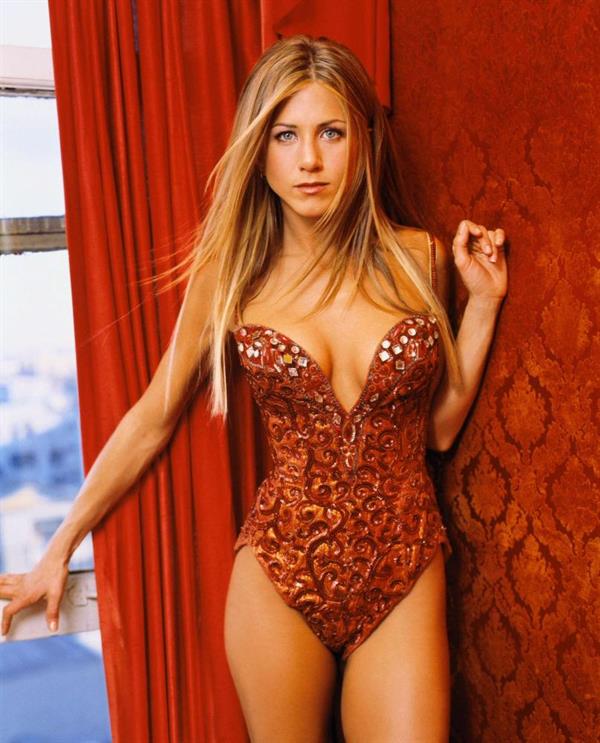 That should help convince you if you still have any doubts.
 Jennifer Aniston Pokies Phenomenon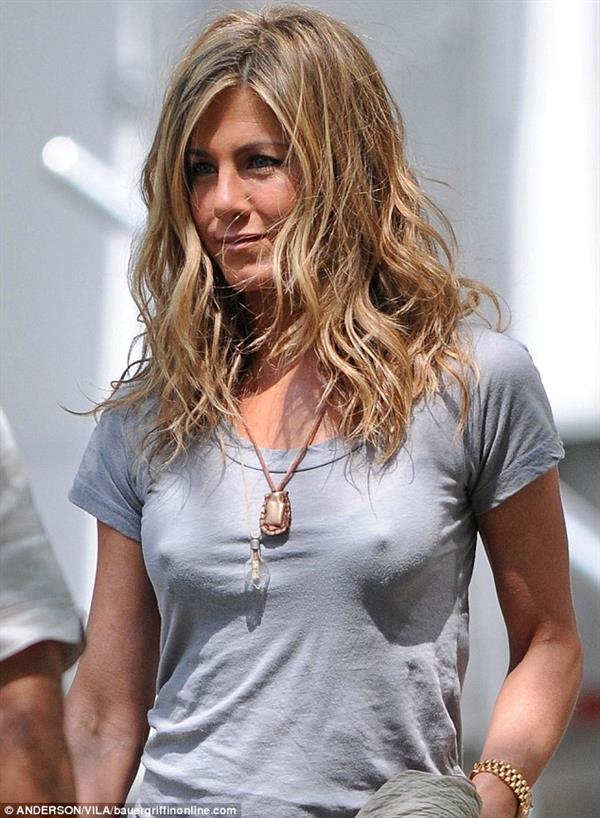 Now, I'm gonna go off character here a bit because as much as I love seeing naked bodies, with Jennifer Aniston, I prefer her fully clothed. In light clothing of course.  And, preferably without a bra.  Because Jennifer Aniston's pokies are way more arousing for me.
To this day, I still can't figure out why, so maybe you can help me out by commenting below if you like her fully naked or simply looking at her erect nipples as she goes about her daily life.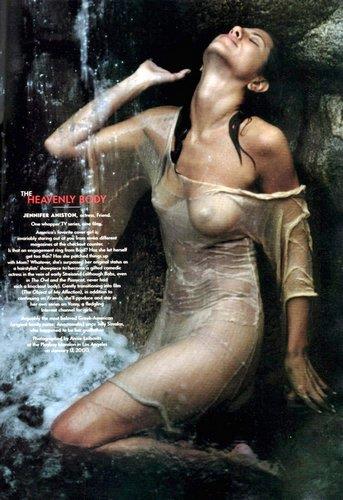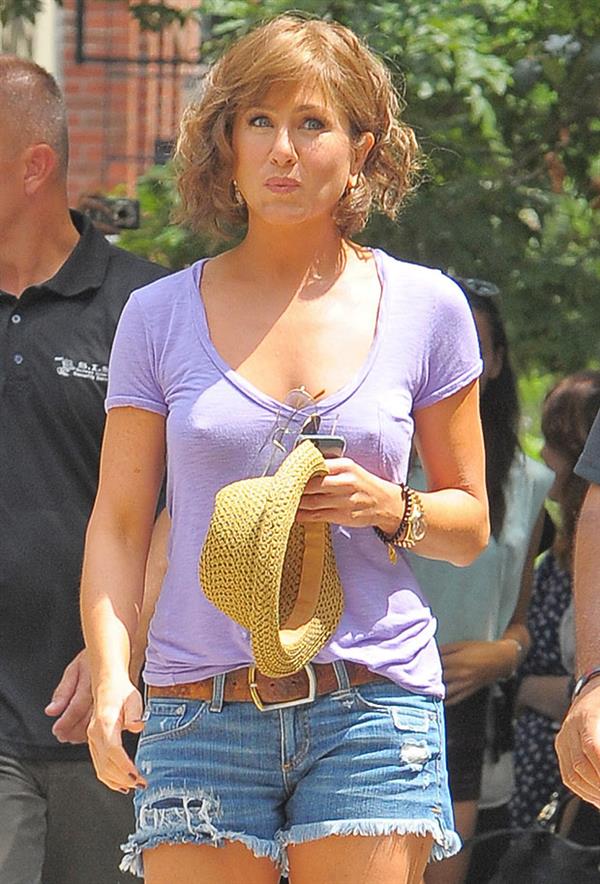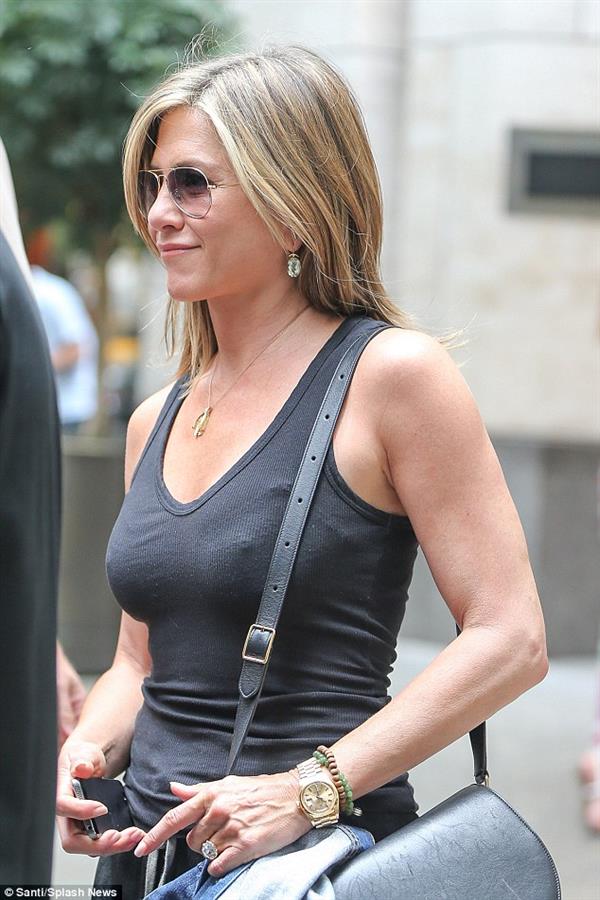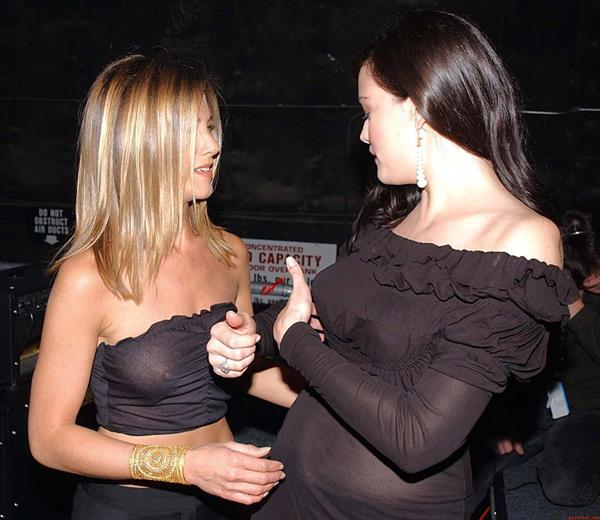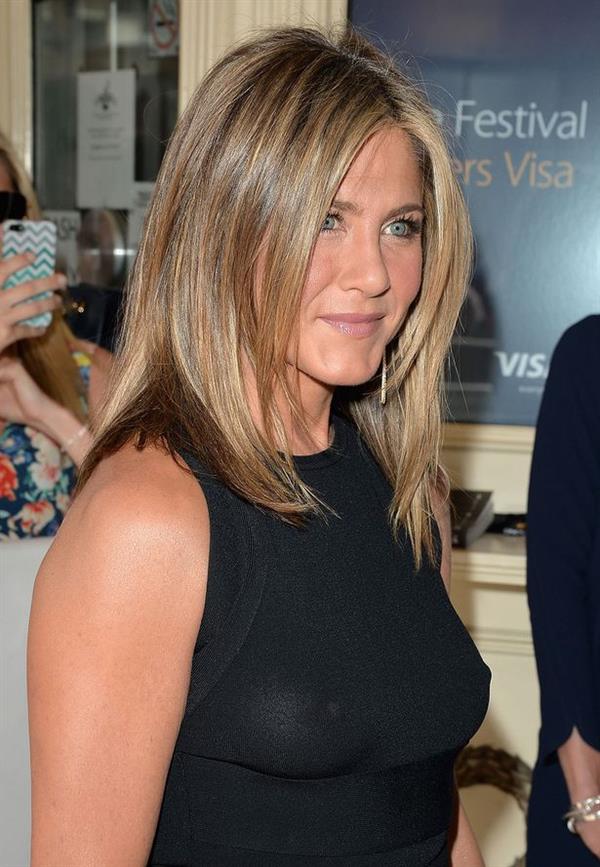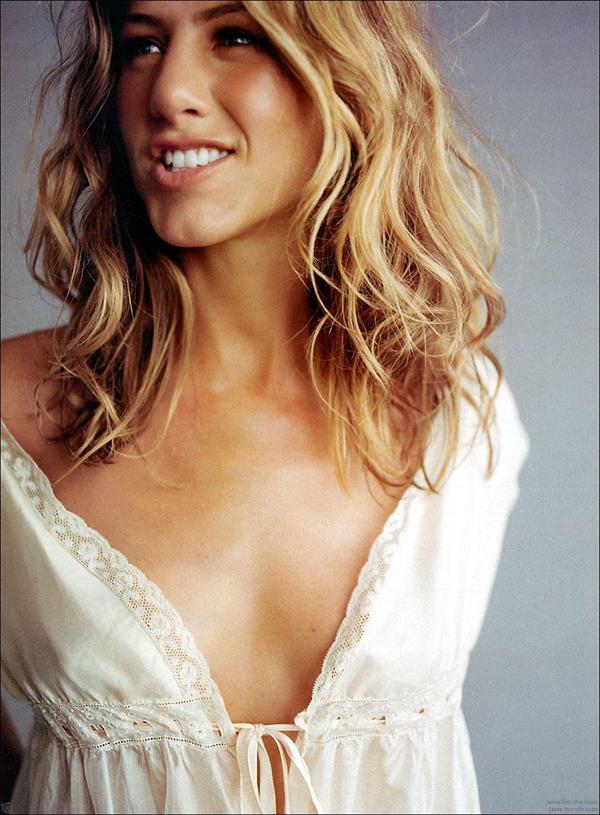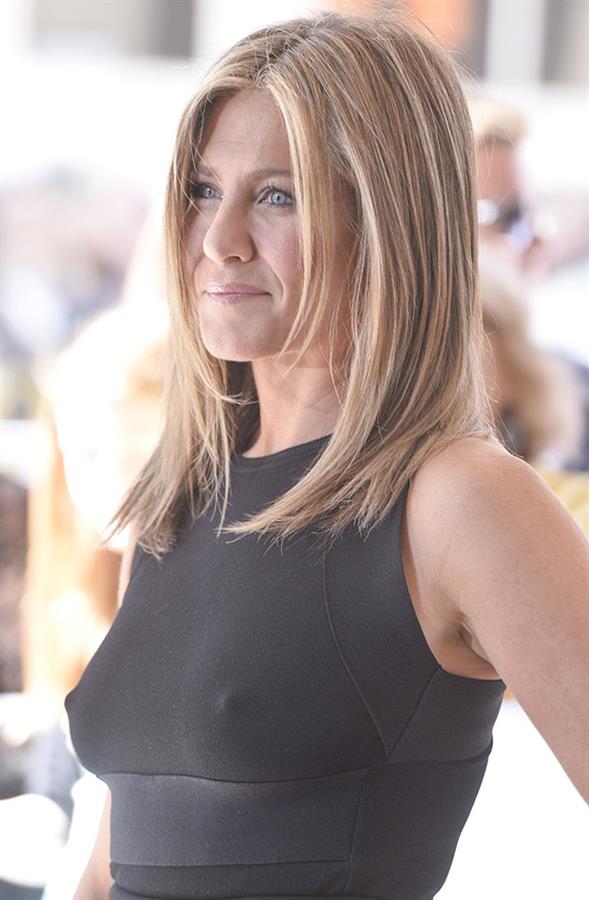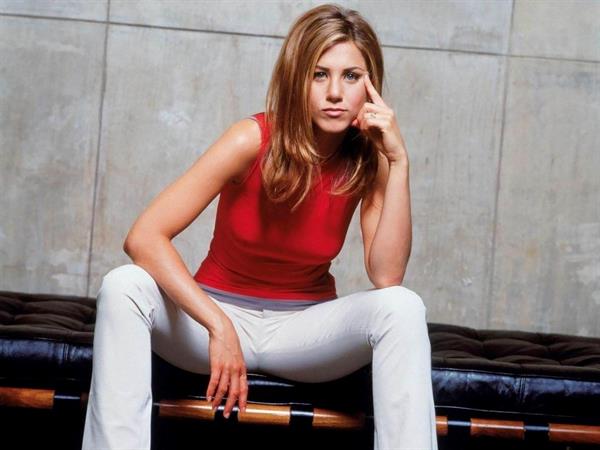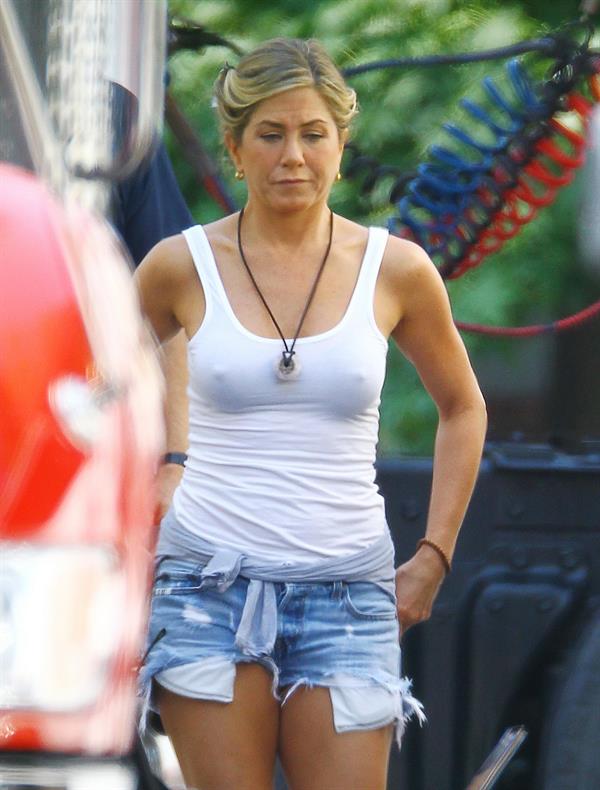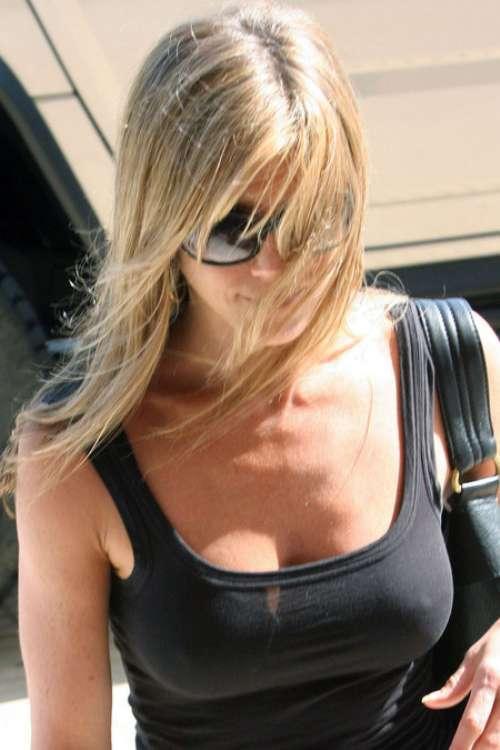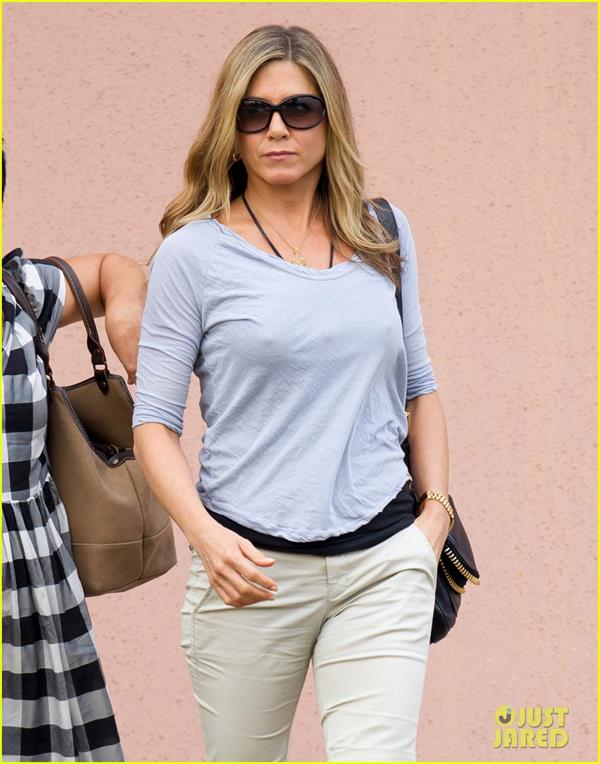 Jennifer Aniston probably didn't mean to but when she went braless, lots of horny teenagers who had fallen in love with her probably came all over their living room couches simultaneously.  That must've been a very awkward situation for these guys because her TV show was usually watched alongside the entire family when it aired every week.
I've seen her in the nude so I know Jennifer Aniston's breasts are amazing.  Now, whether she went under the knife for that or not is still up to debate because she has remained mum over that subject all these years.  I dare say they're real.  There's a real sag to them and I don't see any evidence of scars anywhere.  So it's either she was gifted with great genetics or she has a really good surgeon who signed a very comprehensive non-disclosure agreement.
Jennifer Aniston Health Lifestyle
Wanna know how Jennifer Aniston manages to keep herself looking so fresh and young?  Two words: Healthy Lifestyle.
Jennifer Aniston is well known as a yoga practitioner and Budokan Karate.  Yeah, she can kick your ass so don't let her catch you checking out her pokies.
Jennifer Aniston Awards, Nominations and Other Testaments To How Great An Actress She Is
Jennifer Aniston has won an Emmy, a Golden Globe award and a Screen Actors Guild award.  She has yet to win an Oscar.  Perhaps if the right role came along she would.
She also has a star on the Hollywood Walk of Fame which her co stars also have as testament to their undying popularity playing characters that helped shape an entire generation.
And those are just the awards she won from the more recognizable awarding bodies in the industry.  Her list of awards and nominations would be as long as my arm if I listed them all out here.
Let's just say a lot of people are rooting for her and love her so much that they just want to keep throwing trophies and awards at her.
And it's not that she doesn't deserve it.  She's paid her dues.  She's done all the back breaking work and slogged through all the challenges she's faced all these years and still comes out smiling.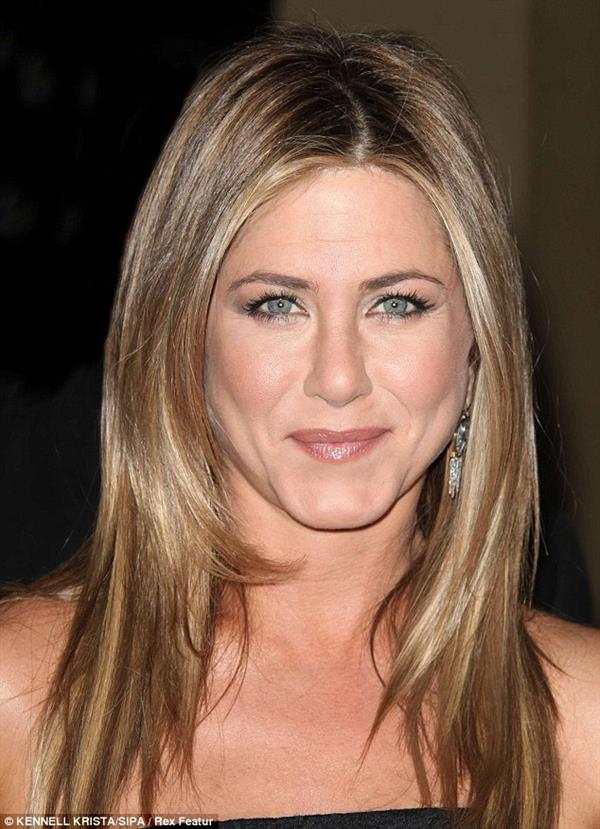 Like Rachel Green would.
Jennifer Aniston Trivia:
Did you know that Jennifer Aniston is extremely terrified of going underwater?  She has no problem being in the water as evidenced by thousands of photos of her at the beach, she just can't let herself go underwater due to a childhood trauma involving a pool, a very young Jennifer Aniston and a trike.  Go figure.
Did you know Jennifer Aniston and Mayim Bialik once starred in a TV show together?  Before they became household names, Jennifer Aniston and Mayim Bialik (Big Bang Theory's Dr. Amy Farrah Fowler) starred in the short lived TV sitcom, Molloy.  That means although that TV show failed it spawned two stars who'd be in the highest rated TV sitcoms of all time.  I wonder what the producers of Molloy are thinking that Jennifer and Mayim are considered Hollywood A listers now.