Hot, dominating, and yeah…  She's timeless! Ladies and gents, a lot of you may be familiar with Nadia Styles.  To those who are not…  Where have you guys been living?  Under a rock?  Come on, this is Nadia Styles!
Yup, the woman above is the reason why I wanted to write about hot women who show skin.  She's the reason why I've devoted myself to this mission; bringing the hotness to you…  Instead of hitting the gym, being ripped, and hooking up with women, I took one for us all, guys.  Yup…  and also because I'm too lazy to lift weights.
Who is this Timeless Goddess?
Nadia Styles (in no way related to Harry of One Erection err Direction) is an American adult actress and director.  As an actress, she has been featured in films for studios such as VCA, Diabolic, Digital Sin, Evil Angel, Zero Tolerance, Hustler, Red Light District, Kick-Ass, Brazzers, and Elegant Angel, and so on…  To date, this 36D-25-35 babe has actually recorded more than 450 films as an actress.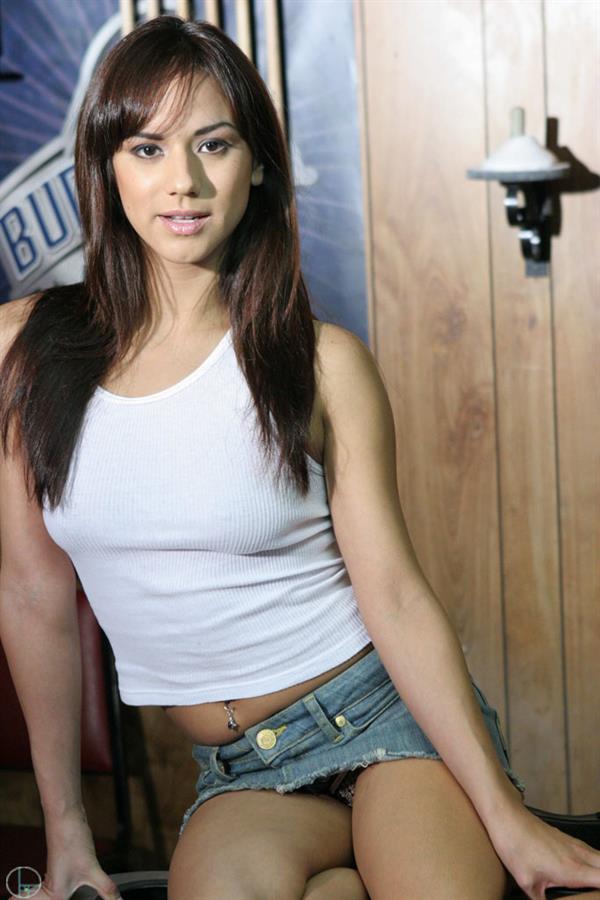 Before The Limelight
Nadia Styles was born on June 25, 1982, in Los Angeles, California as Patrice Elizabeth Roldan.  Her dad is from Mexico and her mom is from LA.  She grew up in the Pasadena area and went to Catholic schools.  Growing up, she played a lot of sports and was in the Girl Scouts (yeah, guys! She's always ready and prepared)…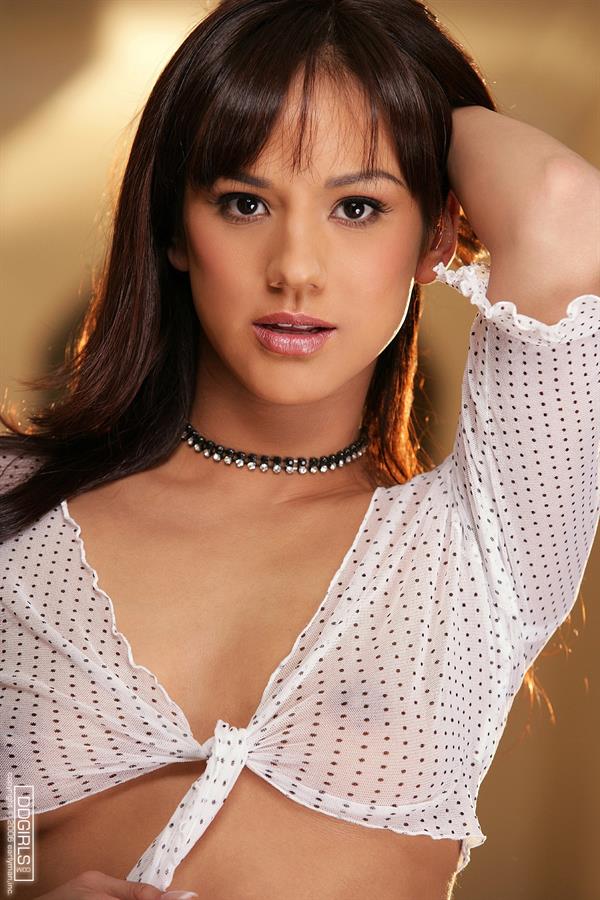 "…but I was also really bad. I liked to sneak out of the house so I don't think I was an easy child to raise at all. I left my home really young and I got independent at a young age. And I joined the industry when I was 19."
Career Journey
Nadia entered the adult industry in 2004, at 22-years-old.  She has worked for different companies and with over 30 titles in her first year and continued working throughout 2005.  In February 2006, Nadia signed a one-year non-exclusive contract with Shy Love Productions making her a Shy Love Vicious Girl.  The deal gave Nadia the chance to direct and produce five films for the company during the year and appearing in 25 scene for the company.  Nadia's first outing with the company was a film that she co-directed and produced with Shy Love called That 70's Ho. Nadia, a fan of That 70's Show, came up with the idea after watching the show and thought it would work and Shy agreed.  The company also has her make some appearances at events on behalf of the company and have some share of the revenue.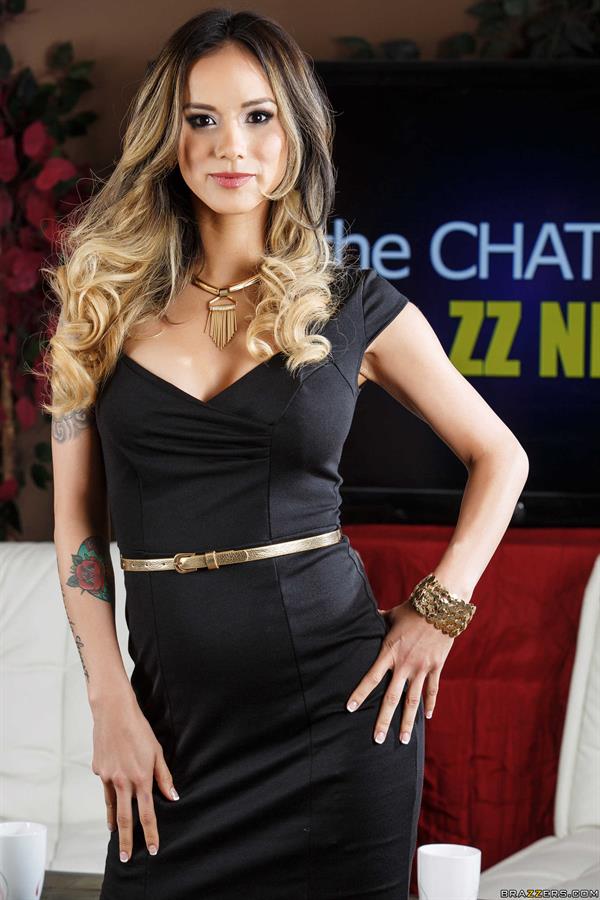 "First I started working in an office for a website called Net Video Girls.  I was doing their 2257's and then I started doing their MPegs. I went to AVN a couple times with them and that's how I got into it."
Also, in 2006, she filmed his first scenes of double penetration in Gaped Crusaders 4 and interracial in Take it Black 4, 5 being also the first interracial scene of the porn actress Dana DeArmond.
Let's Talk About Sex
Nadia lost her virginity at age 13.
"I think it's your basic horny 13-year old girl who wanted to lose her virginity.  My boyfriend wanted to lose his too.  It took a while for his dick to go into my vagina, it was so tight.  It took us a couple (of) times.  We didn't know what we were doing, we were probably doing it wrong."
She also didn't sleep around.  According to her, she only slept with her boyfriends and she didn't' really start feeling orgasms until she was older (18-years-old).
"If I had experienced an orgasm earlier, I'm sure I would have been more promiscuous."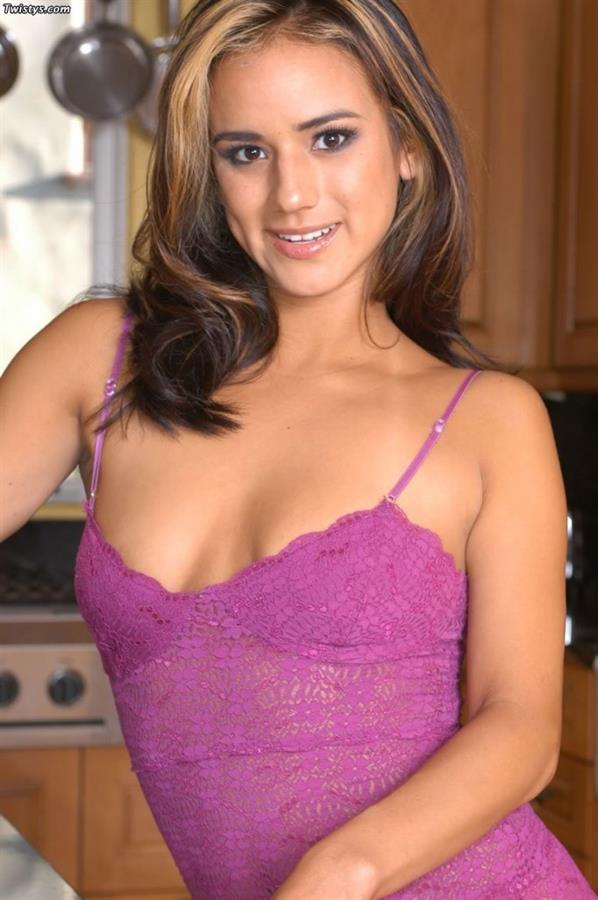 Nadia's favorite position is the reverse cowgirl.  She is also a bit bisexual and is turned on by boobs and pussy.
"So I'm always imagining that I'm with a girl and we're having full-on lesbian sex and then a guy comes in and fucks me.  Girls really turn me on. I love big tits.  I see a cock coming and I'm 'Yeah! Cock!'"
This submissive babe also masturbates every day and she prefers to be cummed in her mouth or on her tits.  According to her, she wants to see it come out and how much it is.
"I masturbate every day or every other day.  I'll skip two days here and there but I'll masturbate in the morning or at night."
Her Hiatus and Comeback
Nadia discovered the Christian faith following the foundation The Pink Cross of the ex-porn actress Shelley Lubben and left the porn industry.  She also stated in her blog the dangers of the industry and how destructive it can be.  The drug use, the STDs,  the depression…  But she later she returned to the adult industry and signed up with the production company Reincorporarse.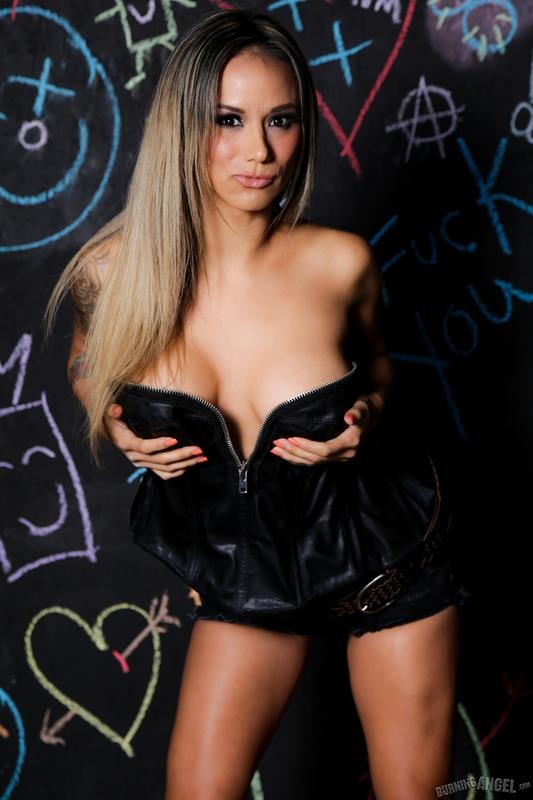 During her hiatus, she also went to New York and worked for an artist…
"It was a romantic thing and we traveled.  I went to Italy and Thailand and Rome.  We would do art shows and it was very cool.  I found a new found love of art.  And that's basically what I was looking for when I left, an outlet outside of porn.  I'm really more balanced in life and health and all those good things so I came back to try it out.  I wanted to see if I still enjoyed it.  When I did my first scene back, I was so excited. I did good and I've still got it!"
Hot Curiosities
Nadia was really into sports when she was younger.  She used to play basketball, volleyball, and track.  She even though of competing in the Olympics as she made quite a career out of it (she ran track from 8 years of age up until she was 16).
"I went to the Junior Olympics and had some school records.  What's funny is that I've met some porn stars that were track runners and cross country runners and I feel like runners are horny people.  I try to correlate the two and I don't know why."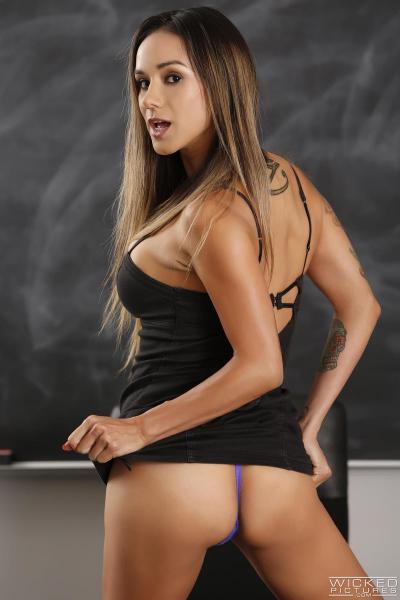 As for her stage name, she picked up Nadia (played by Shannon Elizabeth) from American Pie.  For her last name, she chose Styles because…
"I want people to think of me, I want them to think of someone hot and sexy like that.  And I have a thing for clothes, so Styles."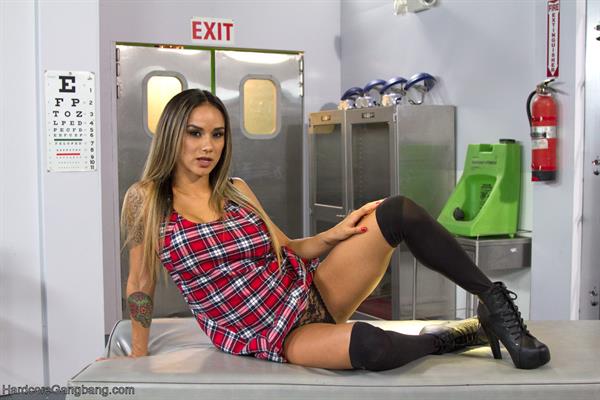 In 2015, she participated in a video for the website Funny or Die 7 with her classmates Mercedes Carrera and Nina Elle, criticizing the film Fifty Shades of Gray, which they accused of being misogynist, of being badly written and showing  'sex without sex'.
Nadia here loves jazz and she cites Donnie Darko, Godfather, and Lost In Translation as her favorite movies.  As for her favorite TV show, she said she likes American Horror Story.
Nadia Styles Photos
Follow Nadia on Instagram for her newest hot personal uploads.
Also, don't forget to check out our Nadia Styles page for more of her always in-season hotness.