Oh, just how most of us like it.  Inked, a body that is stocked in all the right places, and a face that could command us to be her bitch.  Yup, she's a living fantasy alright!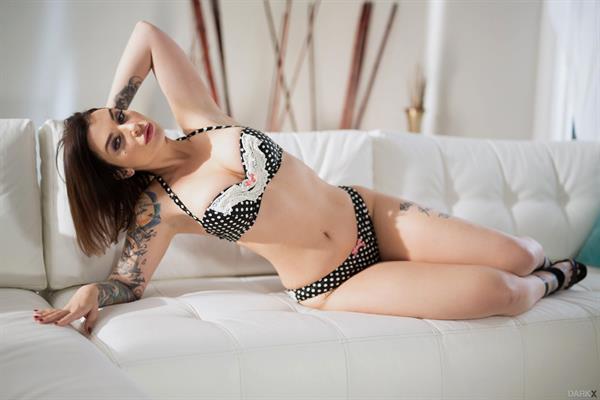 Things that are going through your mind right now.  I guess, like me, you also want to hold her waist.  What's next?  Oh, man, I could think of a million things to do with her.  Yup, a million things plus a really large mirror.  You know what I mean…
Who is Ivy Lebelle?
Ivy is an American adult actress and model.  This 32DD-28-39 hottie frequently performs for Brazzers, burning Angel, Elegant Angel, Evil Angel, Jules Jordan, Kink, Perv City, and X Empire.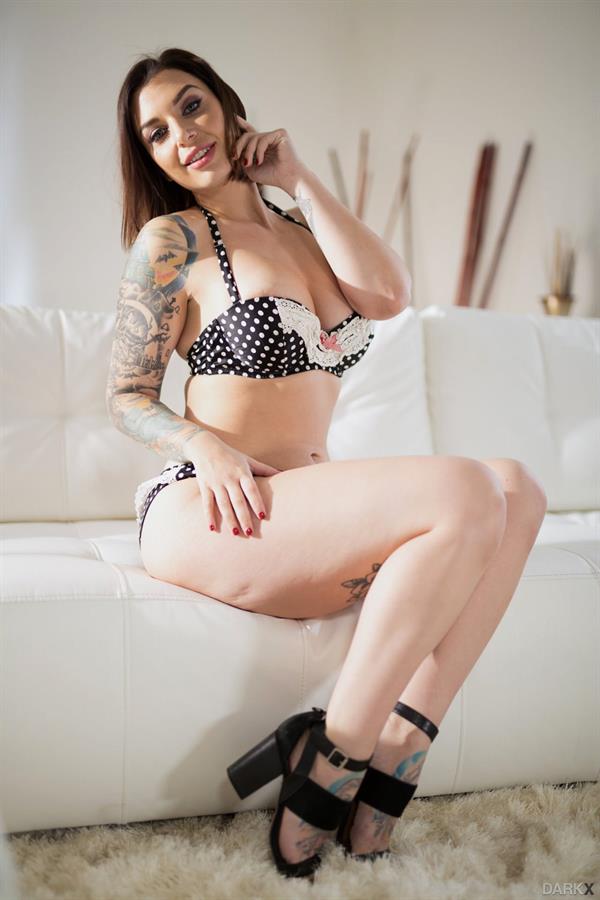 Her Story
Ivy Lebelle was born on born June 15, 1987, in Los Angeles, California.  She is of French, Irish, and Italian descent.
"I grew up in L.A., born and raised.  My dad is from Italy and my mom is from Texas.  I grew up in Studio City. It was a very Christian household and a strict upbringing.  When I was 15, I got my first fake ID and started going to goth clubs.  I've always been very sexual by nature.  When I was a teenager, I used to practice my poses in front of the mirror.  I looked through porn magazines and looked at Jenna Jameson's poses and did them in the mirror."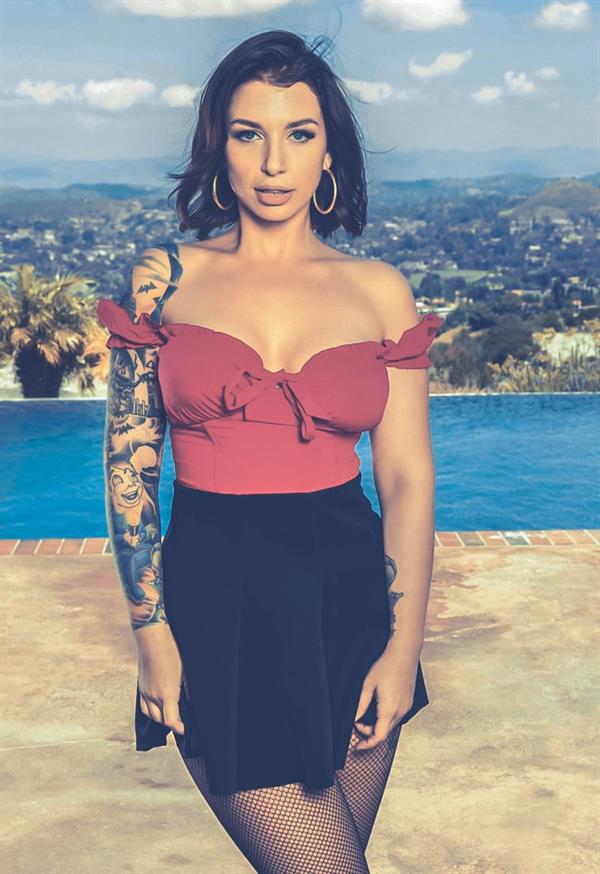 As a young adult, she spent her time doing makeup and being a dancer at various places until her late twenties.  Sexual by nature and knowing the adult industry as a makeup artist and through her close friend Raylin Joy (aka Skin Diamond) she made the jump at 29 when she felt enough confidence.
In 2017, Ivy Lebelle has signed with Isis Love's Skyn Talent to represent her as she enters the industry.  She made her on-screen debut February 11, 2017, for website AmateurAllure.com. Later, in July 2017, Ivy signed a contract with the Spiegler Girls agency.
Her Ink
Ivy got her first tattoo when she was 18.  And most of her ink, she got between the ages of 18 to 21.  She went to San Diego and had a combination of tattoos on her wrists.
"Sometimes, it's hard to see.  It's little baby skeletons holding razor blades and it says 'Love Is Suicide'.  Very dramatic, very sad but it's a lyric from Smashing Pumpkins, a song called Bodies.  Then I got my sleeve tattooed around that so you can't really notice them anymore."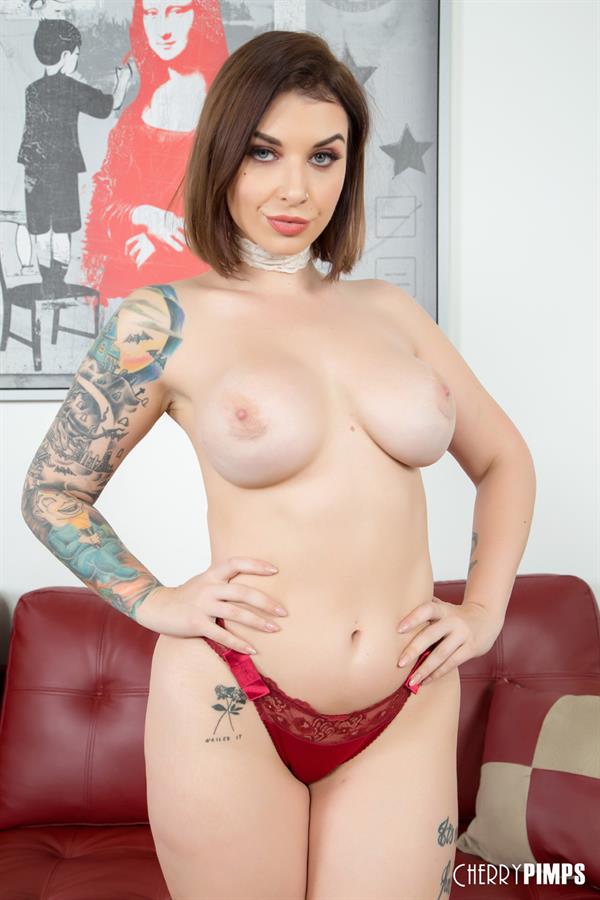 Ivy got her sleeve when she was 19 and that's got a Halloween theme to it.  Ivy is obsessed with Halloween and grew up a goth girl.
"All things Halloween, I love.  I have a haunted house on the top of my arm then it goes down to a graveyard and a little boy telling ghost stories sitting on a pumpkin.  Stuff like that."
Hot Curiosities
She's a gothic, new wave, and 80s music fan and that's also how she chose her stage name.  You see, she got "Ivy" from The Cramps whose lead female member is Poison Ivy.
"…she's a super fiery redhead.  I've been a huge fan of hers forever.  I took Ivy from here.  And LaBelle, I just think it's pretty and it rolls off your tongue.  And it sounds French and I have a Euro look to me."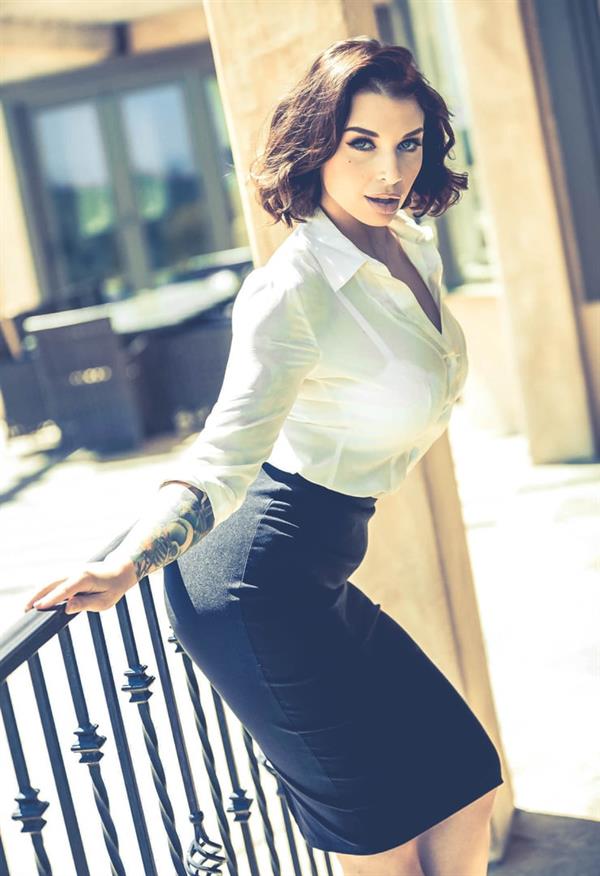 Ivy's favorite movies are Pretty in Pink (1986), Fight Club (1999), The Shining (1980) and Grease (1978).
As for her favorite TV shows?  This Sushi-loving babe likes Penny Dreadful, Game of Thrones, Broad City, The Path, and Breaking Bad.
Sex Talk
Ivy lost her virginity at 14. It was to her first boyfriend and according to her:
"He kind of ruined me for everyone else because I had never seen a dick before in my life and he had a really huge cock!  But I didn't know.  I didn't know how to gauge it.  Ever since then, I've been a size queen which is another of the delights of being in porn because I get to work with guys with huge cocks!
The said boyfriend was a year older than her and they were both Marilyn Manson fans.  Oh, and they were playing Pink Flowd when her cherry got popped.
Her first experience with a girl was when she was 15.  It was with her friend's older sister, who was 21.
Ivy's favorite sexual position is a cowgirl.  She likes leaning forward and kissing the guy while she rides him.  According to her, that's the easiest way for her to cum.  Oh, and she also loves doggie.
As for what get's her wet…  She says it's the mental connection.  Also if a guy is passionate and is always willing to go down on her, that's a plus.
"I really love getting my pussy eaten.  And I also really love giving blowjobs.  I really, really love it especially if the guy is really big, it's a huge turn-on.  I try to deep throat him and get him in my mouth completely.  Just the way it looks and feels in my mouth and hands is probably another of my biggest turn-ons."
Ivy here masturbates once a day (and that depends on how much sex she's having).  Her favorite method is a soft vibrator and then she uses her fingers.
"I have veered away from stronger vibrators because I didn't want to annihilate my sensitivity on my clit.  A little vibrator on my clit while I finger myself and I can usually cum."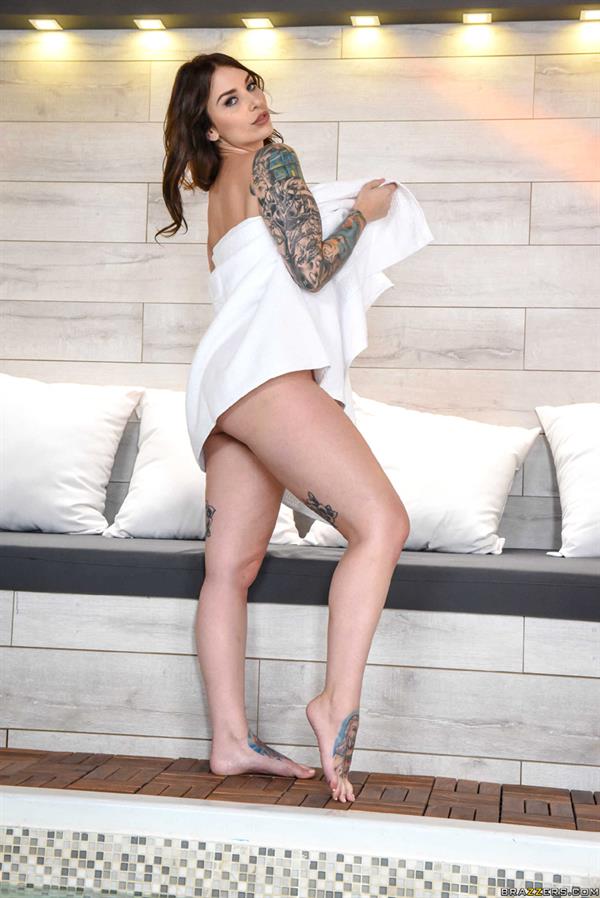 She also prefers to cum shot on her face or in her mouth.  She says she likes to feel the heat of it and she likes to taste it.
As for a fantasy that she would like to lie out, she says it's a threesome.  She would like to be sucking while getting fucked.
Ivy here also had a lot of public sex. Like one in the changing rooms of forever 21.  Oh and this story…
"… a porn star friend of mine, I went back to her house.  We were talking about anal stuff and how I was never able to get anything into my butt that's bigger than a roll of corners.  She said, 'I bet I could get something in your ass!'  She brought out her Hitachi and had me put it on my clit while she put a REALLY big butt plug in my ass.  But it took about 25 minutes to get it in.  Once it was in, it was so satisfying!  That's pretty kinky for me because I'm not used to having anything in my butt and this girl got something I thought would never get in there, in there!  It was a very satisfying moment!"
Ivy Lebelle Gallery
Follow this babe on Instagram for her latest hot personal uploads.
Also, for more of her hot, hot photos, do check out our Ivy Lebelle page.